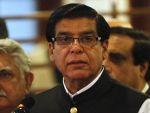 External Affairs Minister Salman Khurshid will host lunch for Pakistan Prime Minister Raja Pervez Ashraf during his one-day private visit on Saturday to Jaipur but there will be no "substantive" discussions.
"Khurshid will host a lunch for him (Ashraf) at a local hotel (RambaghPalace) in Jaipur following which Pakistan prime minister will depart for Ajmer. Upon completion of prayers at Ajmer, the visiting prime minister will return to Jaipur the same evening and take a special flight back to Islamabad.
"The Pakistan prime minister is not visiting New Delhi and no substantive discussions are scheduled to be held in Jaipur," official spokesperson in the ministry of external affairs said while giving details of Pakistan prime minister's trip to Jaipur.
Asked if a proposal for a meeting in New Delhi was made by India, he said the visiting dignitary had expressed the desire to undertake a private visit and "all requirements to meet his needs are met. In addition we have not received any other request."
On why Indian government was going out of way to interact with Pakistani leader when Prime Minister Manmohan Singh had made it clear that it cannot be "business as usual" after the beheading of an Indian soldier near LoC in Jammu and Kashmir, the spokesperson said, "There will not be any substantive discussions and that said, he is prime minister and head of state with which we have diplomatic relations.
"It is an important country. And in accordance with normal diplomatic protocol we are extending him due courtesies."
Ashraf's visit is unlike his President Asif Ali Zardari's trip who came on a day-long visit last April and made a three-hour stopover in New Delhi before flying to Ajmer.
Singh had hosted lunch for the visiting Pakistani president and two leaders also held comprehensive talks.
The official spokesperson also said Ashraf will be accompanied by members of his family and they will be arriving in Jaipur on the morning of March 9.
Ashraf's visit comes at a time when there is a chill in bilateral ties over the ceasefire violations at the LoC. An Indian soldier was beheaded by Pakistani troops while the mutilated body of another was found in January.
Prime Minister Ashraf has a close relationship with Bilal Chishti, the 'Pir' of the shrine at Ajmer.
Chishti met Ashraf twice in Islamabad last year, in December and August. During the meeting in August, Chishti invited the premier to visit Ajmer.
Ashraf accepted the invitation and said he would visit Ajmer at "the first available opportunity".
The shrine in Ajmer is revered by many people in Pakistan, including top political leaders.