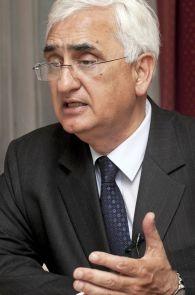 External Affairs Minister Salman Khurshid's daylong "goodwill" visit to Nepal on July 9 will give him an opportunity to meet top functionaries of its interim election government as well as the leaders of the main political parties.
The visit will be Khurshid's first trip to Kathmandu in his capacity as external affairs minister. He is likely to convey India's stated support to the election process in Nepal and express hope that the elections would be inclusive, involving all political parties in Nepal.
Khurshid's meetings with his host Foreign Minister Madhav Prasad Ghimire and calls on President Rambaran Yadav and Chairman of the Council of Ministers and the Head of the Interim Government Khil Raj Regmi, will be the first high level interaction with an Indian leader in Nepal since the constituent assembly was dissolved in May 2012 and the interim government was installed in March this year.
Though there has been no high-level visitor from India, New Delhi has maintained its political interaction with Nepali leaders through their visits during this period. Yadav made a five-day visit to India in late December 2012. The leaders of the two main political parties in Nepal, the Nepali Congress and the Communist Party of Nepal- Maoist have also visited New Delhi on Indian invitations in the past few months.
Nepali Congress leader Sher Bahadur Deuba, who has been prime minister for three terms, was in Delhi and met the top leadership including Prime Minister Manmohan Singh, United Progressive Alliance chairperson Sonia Gandhi, Khurshid, Commerce Minister Anand Sharma and Bharatiya Janata Party chief Rajnath Singh.

Nepal's Maoist leader Pushpa Kamal Dahal Prachanda visited India in April shortly after his third visit to China. In Delhi, Prachanda had proposed trilateral cooperation between India, China and Nepal, suggesting that Nepal could act as a bridge between its two large neighbours.
Khurshid's visit takes place shortly after a high-level visit by a Chinese leader, State Councilor Yang Jiechi when a series of agreements were signed on economic and technical cooperation. The Chinese side even offered to set up a police academy in the country. The Chinese government expressed its support for the constituent assembly elections later this year and offered logistical support for the elections.
Nepal is due to hold elections for a new constituent assembly on November 19. The elections were necessitated after the constituent assembly was dissolved after its term came to an end last year, without drafting a new constitution.