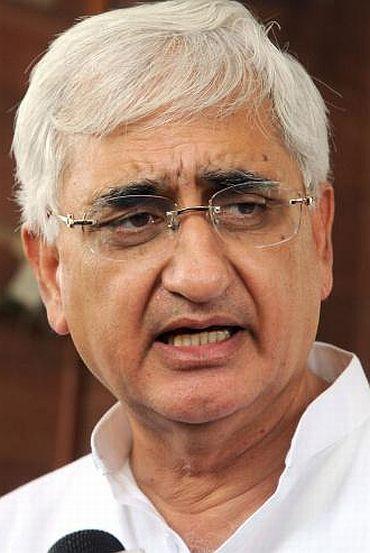 External Affairs Minister Salman Khurshid will leave for Myanmar on Friday on his first bilateral visit since assuming office and will hold talks with the top leadership there including opposition leader Aung San Suu Kyi.
The three-day visit of Khurshid will also be a precursor to the discussions which will take place during the Myanmar President Thein Sein's trip here for ASEAN-India Commemorative Summit from December 20.
During the visit, Khurshid would meet his Myanmar counterpart and is scheduled to call on the President and other leaders. The minister would inaugurate the International Conference on Buddhist Cultural Heritage that is being jointly organised by the governments of the two countries in Yangon on December 15.
He is also scheduled to unveil the 15-foot replica of the statue of Gautama Buddha in the precincts of the famous Shwedagon Pagoda in Yangon.
The Buddha statue had been gifted by Prime Minister Manmohan Singh during his visit to Myanmar in May this year. "The exchange of high-level visits over the past year,
including the state visits of the prime minister to Myanmar in May 2012 and that of the President of Myanmar to India in October 2011, has further strengthened these  multifaceted ties," a statement by the Ministry of External Affairs said.
Khurshid, who assumed charge over two months ago, is travelling to Myanmar on his first bilateral visit. He had travelled to Laos last month for 9th ASEM conference.
A number of new initiatives related to enhancing connectivity through land, sea and air, promoting bilateral cooperation and exchanges in the areas of security, border cooperation, trade and commerce, banking, agriculture among others are under joint implementation.
"The visit of the external affairs minister would provide an opportunity to review the entire gamut of the bilateral relationship and build further upon the momentum in  bilateral relations," the statement said.