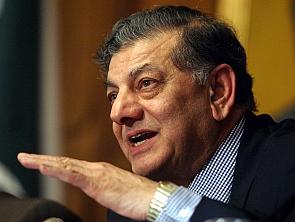 Former Foreign Secretary Riaz Khokhar is tipped to replace Sherry Rehman as Pakistan's ambassador to the United States, according to a media report on Wednesday. Rehman, who was appointed by the previous Pakistan People's Party-led government, resigned yesterday following the party's defeat in the May 11 general election.
Khokhar, who served as an envoy to China, the US and India, is tipped to replace her, The News daily reported. Khokhar's appointment is expected to be announced soon after Pakistan Muslim League-Nawaz chief Nawaz Sharif takes oath of office as prime minister, the report said.
Rehman, a journalist-turned-politician, also served as a minister in the PPP-led government. She is expected to be given a key role in the PPP's affairs and will take on an active role in her think tank, the Jinnah Institute in Islamabad.
She was appointed Ambassador to the US in November 2011 after Husain Haqqani was forced to quit when he was implicated in a scam over a mysterious memo that was sent to the US military leadership following the military raid that killed Osama bin Laden in Abbottabad.'