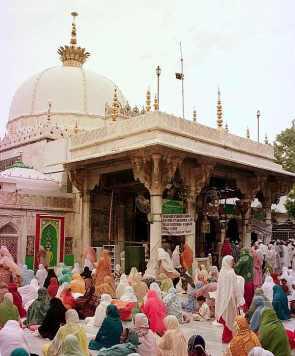 Within a fortnight of the clash at the Golden Temple in Amritsar, warring members of two Khadim groups from the Ajmer Dargah clashed on Monday, using swords, which led to injuring one person. Khadims, who have been attached to the shrine since its inception, play a key role in the smooth functioning at the dargah. They also have the privilege of opening and closing the doors of the shrine.
In the attack, the thumb of one Bilal Hussain was chopped off. He is the brother of the Anjuman Committee's secretary Waheed Angara. Bilal received injuries on his head, stomach and back too. After some initial treatment, Angara was referred to the SMSHospital in Jaipur.
Sources say that the attack was in retaliation to an incident which happened a month-and-a-half ago.
Since long there has been animosity between Bilal and one Tarique Anwar's group. A month-and-a-half ago, on the last day of the Urs, when lakhs of devotees had gathered at the Dargah the two groups had clashed, injuring three people.
Following the clash, three persons were arrested. Additional Superintendent of Police Sharad Choudhary said, "We have registered a case and the investigation is on."
Sources say that the reason behind the feud between these groups is the crores of rupees offered every year at the shrine by millions of devotees who visit from all over Asia. In a recent judgment by the Supreme Court, an order was issued to appoint a receiver inside the dargah, but the instruction has not been obeyed because of the feud, and a hearing will soon take place.
"The khadims have been fighting since long and there were demands of deployment of central forces in the Dargah area. But it was only after the blast at the dargah in 2007, the home ministry decided to deploy the Central Reserve Security Force in 2009. However, it has not been followed up yet," said a journalist on condition of anonymity.