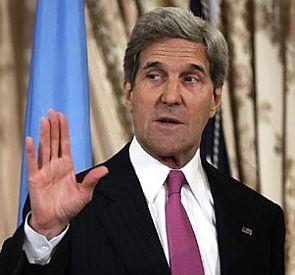 United States Secretary of State John Kerry has held wide-ranging talks with visiting Foreign Secretary Sujatha Singh on key issues, including the regional situation with respect to Afghanistan, Pakistan and Bangladesh.
No official statement on the meeting, pictures of which were posted on the twitter feed of the South and Central Asia Bureau of the State Department, were made available from either side.
However, officials familiar with the talks described it as a highly useful meeting.
Kerry is believed to have "enjoyed a positive conversation" with Singh, which was followed by a series of meetings with other top officials of the State Department, including Deputy Secretary of State William Burns, Under Secretary of State for Political Affairs Windy Sherman and Assistant Secretary of State for South and Central Asia Nisha Desai Biswal.
During the meeting, both sides discussed a wide range of bilateral, regional and global issues, which among others included Afghanistan, Pakistan and the elections in Bangladesh, sources said.
Kerry braved heavy snowfall, which the city experienced early Tuesday morning forcing the federal government to shut down its offices and school as a precautionary measure, to meet Singh, reflecting the significance he attaches to ties with India.
Singh who arrived in Washington on Sunday, has also met Deputy Energy Secretary Daniel B Poneman on Monday, Under Secretary of Defense for Policy James N Miller, Deputy National Security Advisor Tony Blinken, Senator Mark Warner, Co-Chair of the Senate India Caucus.
She also had a round table at the Carnegie Endowment for International Peace, an eminent American think-tank.
Singh's consultations at the State Department would continue during her four-day visit.
She is also schedule to meet the Special Representative for Afghanistan and Pakistan James Dobbins and Senator Robert Menendez, Chairman of the Senate Foreign Relations Committee, among others.

The US trip by the Foreign Secretary comes immediately after the visit of Indian Army Chief Gen Bikram Singh.

This is to be followed by an India visit by Assistant Secretary of State for South and Central Asia Nisha Desai Biswal, some time next year.

Energy Secretary Ernest Moniz is scheduled to visit New Delhi in January for India-US Energy Dialogue.
Officials are also planning for the next round of Afghan-India-US trilateral meeting in New Delhi next year.