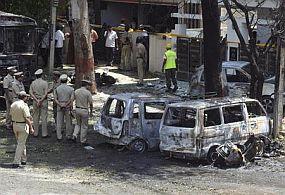 The arrest of five persons in Kerala in connection with last week's Bengaluru blast has raised the possibility of the involvement of a sleeper cell in the state behind the attack.
Is there a Kerala angle to Bengaluru blast?
Investigators say that the five persons were detained in Kottayam, Kerala and were being questioned.

"They appear to be part of an individual group. However, further questioning will give us a clearer picture," sources said.

The National Investigation Agency, meanwhile, is looking at a possible Indian Mujahideen link to the attack. They have been questioning suspects.

The Bengaluru Police say that the case is open-ended.

'We are yet to get the link to the motorcycle. We are questioning three persons who had sold the bike, which was used to plant the bomb. However, these persons have not yet been able to tell us clearly as to who they had sold the bike to. It could have changed many hands,' the police say.