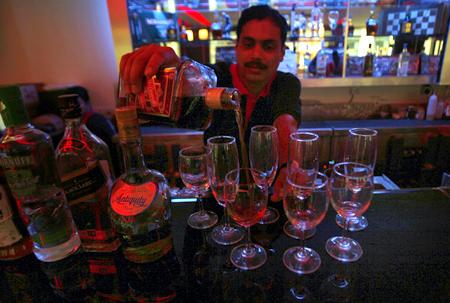 The Kerala cabinet on Wednesday ratified the new liquor policy of the Congress-led United Democratic Front government, which envisaged to shut down bars attached to hotels below the five-star category as part of its plans to reduce availability of liquor.
The cabinet, however, deferred a decision on issues related to licences to beer and wine parlours and elite clubs that serve liquor.
Several matters, including issues related to beer and wine parlours and clubs serving liquor, have to be incorporated in the new policy, Chief Minister Oommen Chandy told reporters during cabinet briefing in Thiruvananthapuram.
These issues would be taken up at the next cabinet meeting, Chandy said, adding, that the ruling UDF had taken a strong decision now to close down of about 730 bars.
Meanwhile, as part of a new policy, 312 bars attached to hotels below the five-star category would be served notices on Thursday asking them to close their bars by September 12.
Apart from closing down 312 bars, the government had also decided not to renew licences of 418 bars that remained shut since April for want of required facilities.
The radical policy shift to sharply cut down on liquor trade was taken by the UDF leadership meet last week when it met to consider the fate of the 418 closed bars.
Image: Representation picture