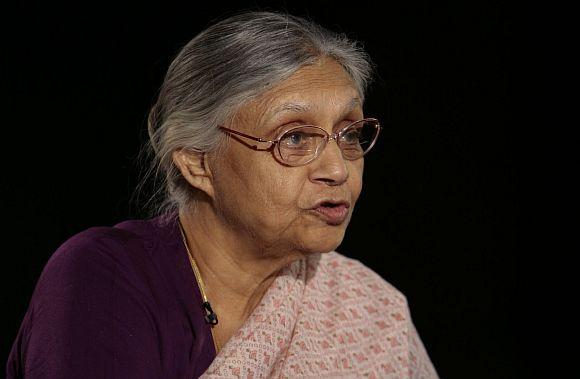 Kerala Governor Sheila Dikshit on Monday met President Pranab Mukherjee and Home Minister Rajnath Singh amid indications that she may put in her papers if shunted out of the southern state.
Dikshit's meetings came a day after her Maharashtra counterpart K Sankaranarayanan quit, protesting his transfer to Mizoram. Five United Progressive Alliance-appointed governors have already resigned after being nudged by the National Democratic Alliance government.
Sources close to 76-year-old Dikshit, who took charge of Kerala Raj Bhawan only five months back, indicated that the former Delhi chief minister may put in her papers as she was under pressure to do so. However, when asked whether she will resign, Dikshit refused to give a direct answer. "You will know, when I take any such decision," she told PTI.
Dikshit, who served as Delhi chief minister from 1998 to 2013, was appointed the Kerala governor in March just before the model code of conduct came into force for the Lok Sabha polls.
During her 15-minute meeting with the home minister, Dikshit is understood to have discussed about her continuation in Thiruvananthapuram Raj Bhavan, sources said. She is said to have refused to quit after the NDA government had allegedly nudged her to resign. There have been reports that suggested that she may be transferred to a state in the northeast.
After meeting Singh, Dikshit met the President. However, there was no official word on what transpired in the meeting. "I try to meet the President whenever I am in Delhi," Dikshit said.
On Sunday, Maharashtra Governor K Sankaranarayanan resigned after he was transferred to Mizoram for the remainder of his tenure till 2017.
Earlier, the NDA government had transferred Kamla Beniwal as Mizoram governor from Gujarat Raj Bhawan and when she refused to resign, she was sacked three months before the end of her tenure in October. As Gujarat governor, Beniwal had a running battle with Narendra Modi when he was the state's chief minister.
Virendra Kataria, a former Congress leader, was also sacked as Puducherry lieutenant governor last month.
Five other Governors -- M K Narayanan (West Bengal), Ashwani Kumar (Nagaland), B L Joshi (UP), B V Wanchoo (Goa) and Shekhar Dutt (Chhattisgarh) had put in their papers apparently after they were telephoned by the Union home secretary.
Uttrakhand Governor Aziz Qureshi has challenged Modi government's moves to ease him out of office, bringing the controversy over removal of UPA-appointed governors under judicial scanner.

Image: Kerala Governor Sheila Dikshit