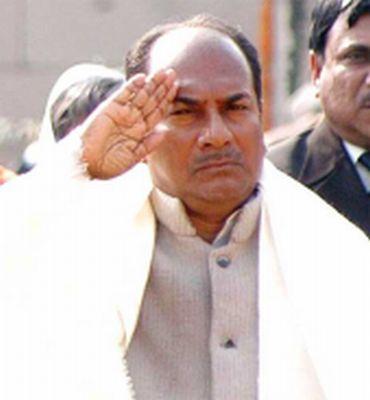 Claiming that the Left Democratic Front government in Kerala had little to show as its achievement, Defence Minister A K Antony on Monday said the state would become the 'second Bengal' if the Left alliance returned to power.
"The Left rule of 30 years has done serious damage to West Bengal. If the LDF in Kerala is voted back to power, the state will be the second Bengal," the Congress veteran told a meet-the-press programme in Thiruvananthapuram on the concluding day of the camapign for the April 13 polls.
Complete Coverage: Assembly Elections 2011
The "result" of prolonged Left Front rule in West Bengal "is poverty, unemployment and under development. Thousands of labourers from Bengal have migrated to other states in search of work," he alleged.
Hitting out at Chief Minister V S Achuthanandan, Antony said that in the run-up to the polls, the Marxist leader had been trying to divert attention from his failures by resorting to "political stunts and dramas".
Antony said the chief minister had either been sleeping or pretending to be asleep all these five years.
"Suddenly, he has woken up and waxing eloquent on the campaign platforms. This drama is not going to bring votes for the LDF," he said.
On Achuthanandan's critical comments against Prime Minister Manmohan Singh over allocation of central projects to Kerala, Antony said it was not a mere claim but a reality that the state had hugely benefited from central projects in the last five years.
"No government in the state's history has received such a generous consideration from the Centre as the LDF government did in the last five years. When I was the Chief Minister, the Congress governments at the Centre did not show such consideration", he said.
Image: Defence Minister A K Antony