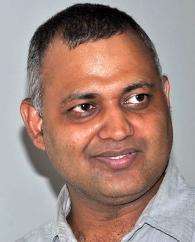 Somnath Bharti, the law minister in Delhi Chief Minister Arvind Kejriwal's cabinet, was once indicted for tampering with evidence by a court in Patiala.
According to a report in a leading national daily, a special judge of the Central Bureau of Investigation had indicted Bharti and his client Pawan Kumar after the agency accused them of trying to influence a prosecution witness.
Bharti had allegedly spoken to the prosecution witness and discussed the case.
Pawan Kumar was, ironically, being tried on corruption charges.
The Aam Aadmi Party, led by Kejriwal, had come to power in Delhi after the recent assembly elections on the plank of its strong anti-corruption stance.
Bharti's client Kumar, a former bank employee, was being prosecuted by the CBI on three charges of corruption.
The Patiala court had cancelled Kumar's bail in the wake of Bharti's indictment.
Bharti had taken the matter to the high court and then to the Supreme Court, where senior lawyer and fellow AAP leader Prashant Bhushan had argued on his behalf. However, neither court had agreed to grant him reprieve in the matter.