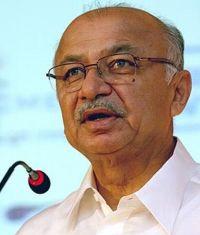 Union Home Minister Sushilkumar Shinde on Saturday sought to defend the joint opposition by the Congress and the Bharatiya Janata Party to introduction of Janlokpal Bill in Delhi Assembly and accused Aam Aadmi Party leader Arvind Kejriwal of violating his oath of the chief minister's office.
"Before assuming the office, a member of Legislative Assembly or a member of Parliament takes the oath. Similarly, chief minister also takes the oath of (abiding by) the constitution before assuming the office.
Kejriwal has however violated that oath," Shinde told media persons at his hometown Solapur. Kejriwal stepped down as Delhi chief minister on Friday after he was prevented from tabling his dream Janlokpal bill in the Assembly in face of stiff opposition from the Congress and the BJP.
"The Janlokpal Bill was not tabled as per the rule... Since the method applied was wrong, both the Congress and the BJP opposed it," Shinde said.