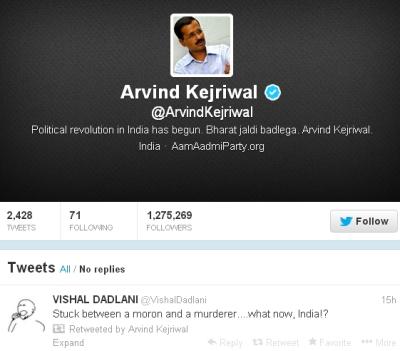 Delhi Chief Minister Arvind Kejriwal on Tuesday courted controversy after he retweeted a music director's contentious tweet taking potshots at Congress Vice President Rahul Gandhi and Gujarat Chief Minister Narendra Modi.
Kejriwal retweeted music director Vishal Dadlani's tweet on Monday late which read, "Stuck between a moron and a murderer....what now, India!?"
Dadlani had made the comment after Rahul's interview was aired by a private news channel.

Read: Kejriwal's FIVE biggest boo-boos! Rate them
The music director has been making controversial remarks in the past as well but this retweet by Kejriwal, which is seen as an endorsement, has not been received too well.
The Bharatiya Janata Party criticised Keriwal for the action. "It doesn't auger well at all. A chief minister even if he endorses or doesn't endorse the retweet itself, he has allowed a certain language which is not deserving of either a chief minister or even a member of Parliament. It is not doing the public discourse any favour," said BJP spokesperson Nirmala Sitharamam.
"Being a chief minister he should now be doubly conscious of what he endorses, if he doesn't, he does not have any business to retweet it and start this kind of language in the social media," he added.
She also advised Kejriwal that being a chief minister, he should be conscious of what he is doing.
"If comments are on public personalities, one occupying the position of the chief minister of Gujarat and the other member of Parliament. It may be the independent view of a music director, but the chief minister (Kejriwal) should have been conscious," she said.

Image: A screenshot of Arvind Kejriwal's twitter page