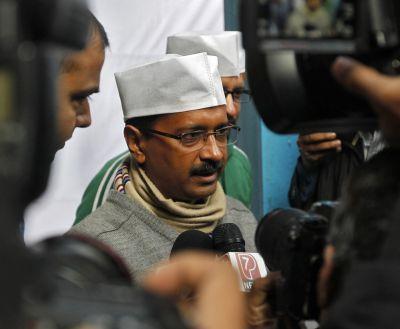 The Aam Aadmi Party will host a fundraising dinner in Bengaluru on March 15 during AAP chief Arvind Kejriwal's two-day visit to the city.
The event is being coordinated by former Infosys board member and the AAP's likely candidate from the Bangalore Central Lok Sabha constituency, V Balakrishnan.
The fundraiser is expected to raise around Rs 4,000,000 (Rs 40 lakhs/Rs 4 million) -- this means the 200 people attending the dinner will pay up to Rs 20,000 each.
The AAP clarified that it is not a social event, but an interactive programme largely involving members of the information technology industry.
Apart from members of the IT sector, the event will also feature industrialists from other sectors who can share their views and interact with Kejriwal, left.
During the event the party hopes to collect ideas for the Lok Sabha election in Karnataka where it plans to contest all 28 constituencies.
According to Balakrishnan, who sent out the invitations, it will be a no holds barred discussion.
'Corruption begins with funding of political parties and such meets are intended to ensure transparency,' Balakrishnan said, adding, 'The money raised will be used to fund candidates fighting the elections.'
'Unless all of us support this kind of initiative, the country will never change. I request all of you to attend the dinner and make the pledge,' he added..
The AAP distributed pamphlets all over Bengalaru on Saturday which read, 'Kejriwal is coming.' The party has so far received 400 plus applications from candidates who want to contest the election.
The Election Commission will notify the election on March 19 and the AAP hopes to finalise its list of 28 by March 15 after Kejriwal arrives in Bengaluru.