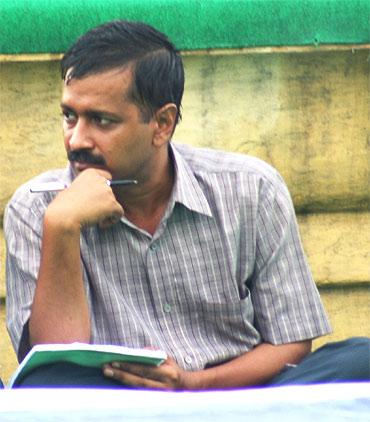 The fast of Aam Aadmi leader Arvind Kejriwal in protest against 'inflated' power and water bills entered the fourth day on Tuesday with the party claiming that his health was on a decline.
In a statement, AAP said Kejriwal will 'speak less' from now on during the protest as his health deteriorated since Monday. "I am only physically weak, my spirit has not dampened," he said in a short speech.
In the evening, his Blood Pressure was 114/70, Pulse was 75 and Sugar was 85. He has lost 5 kg of body weight in the last four days, Kejriwal's medical team said. The party claimed 1,86,697 people have so far signed protest letters to Delhi Chief Minister Shiela Dikshit pledging that they would not pay 'inflated' bills.
Inviting all such victims of the Delhi Government-discoms nexus on stage or hearing patiently their tales of woes outside, activist Manish Sisodia said that there were only two ways the ruling class ensures its rule lasts for ever: instilling fear and greed in the minds of the people; 'greed in a few, and fear in most'
The need of the hour is to get over the fear of oppression by the ruling class, he said while informing the audience that the government, which has started feeling the heat of the movement, has started misusing the police to scare activists of the AAP.
Posters, hoardings, banners and other publicity material of the party are being pulled down from across the city, and volunteers are being manhandled by the police, Sisodia informed.