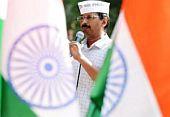 The Congress on Tuesday launched a scathing attack on Arvind Kejriwal and his team without naming him, saying they are rabble rousers and front men for rabid anti-Congress forces and taunted BJP for striking "overt and covert alliances" to defame the ruling party.
In the latest edition of its mouthpiece, the party also took a dig at Gujarat Chief Minister Narendra Modi in a veiled manner for levelling "prima facie absurd charges" against the Congress leadership.
The editorial of Congress Sandesh attributed the recent attacks on party leaders on the issue of corruption to polls in BJP-ruled Gujarat and Himachal Pradesh and criticised the "hit and run" attitude of the "self-appointed guardians of morality and probity".
Noting that anti-Congressism has been a prominent feature of the country's political opposition, the editorial said, "Our political opponents strike all kinds of unholy alliances - overt and covert - to achieve their goal of denigrating, defaming and maligning our party".
"As elections for Gujarat and Himachal Pradesh have been announced, we witness a hyper level of activity on this front. They know that only way they can sully our image is through their lies and low level personal attacks.


"The beginning was made by those, who make pompous claims to be the best administrators and still betray a strange and malicious innocence while levelling prima facie absurd charges against our leadership," it said alluding to the allegations of Modi on alleged foreign expenditure on Sonia Gandhi's visits abroad, a charge later proved untrue.
Taking potshots apparently at civil society activists led by activist-turned politician Kejriwal, it said, "We have also seen the self-appointed guardians of morality and probity in public life. Their hit and run approach to so-called scams has proved beyond doubt that they crave just for media attention. They act in tandem although they tend to give impression that they are different entities. At their core they are at best mere rabblerousers and at worst they are the front men for rabid anti-Congress forces," it said.
The Congress journal said that anti-Congress forces were fully aware that as long as the issues are related to development and governance, "they stand no chance of defeating the Congress".
And hence, for them the main concern is "to somehow damage the Congress and its strong leadership by spreading canards and misrepresentations", it noted.
Terming the Gujarat and Himachal Pradesh elections as an opportunity for Congress, it urged for "unity" among Congressmen saying it is the single most important factor that makes the difference between an electoral win and defeat.
"Our partymen have the capacity to fight and overcome all challenges. The real need of the hour is to get united and defeat communal forces," the editorial said.

It also castigated the BJP governments in both states, particularly in Narendra Modi-ruled Gujarat, saying "these resource rich states have been governed by fascist forces."

"The rulers have been mired in neck-deep corruption. They have been pursuing the ruthless exploitation of the state, its resources for the fulfilment of their vaulting personal ambitions. Their only quest is the enhancement of their personal brand value.

"For them people's emotions are just tools for feeding their massive egos. This is a battle of survival for them. In the past, too they have shown that they can sink to any depth to retain power," it said.
Claiming that every progressive move in the country in the interest of people has been ushered only by Congress, the journal said the party is committed to root out corruption and bringing in transparency at all levels and asked partymen to reach out to people and assure them of their sincerity of purpose to serve citizens' interests.