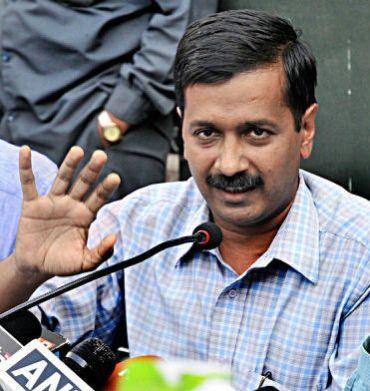 Battling growing infighting, the Aam Aadmi Party on Saturday went on damage control mode by deciding to restructure it and rejected resignation of its senior leaders Yogendra Yadav and Shazia Ilmi, who had attacked party chief Arvind Kejriwal for lack of internal democracy.
Making an announcement at the end of second day's national executive meeting on Saturday, senior AAP leader Prashant Bhushan said the resignations were rejected "unanimously" and that all the differences were sorted out in a "cordial manner"
Yadav had quit from the political affairs committee after charging Kejriwal of "falling prey to personality cult" while Ilmi had resigned from the party saying a coterie surrounding the former chief minister was running the party.
Bhushan said the national executive had also rejected the resignations of Haryana convener Naveen Jaihind.
"There would always be some differences. All these differences were discussed in a positive and cordial manner. The party has decided to reject the resignations and move forward," he said.
Earlier, Kejriwal put up a brave front claiming that things are going smooth and there will be an organisational restructuring soon including possible expansion of AAP's political affairs committee, the highest making body.
Yadav said by tendering resignation, he sought party's attention over some issues and wanted a discussion on them.
"The day I resigned my party leaders wanted me to withdraw the resignation, but I said issues should be discussed. All these issues were related to the party, volunteers and its well-wishers. I am happy that these issues were given importance," Yadav said after the meeting.
Sources said Kejriwal had a chat with Yadav and tried to sort out the "issues".
"Yog(endra) Yadav has raised some imp (sic) issues. All of us will work on it. Yog yadav is a v dear friend and a valued colleague. Had long discussion with him...," Kejriwal tweeted.
After Yadav attacked Kejriwal, Manish Sisodia, considered close to the former Chief Minister, had hit back accusing him of targeting the AAP chief and making internal matters public.
"All things are going smooth and differences are resolved. We are discussing organisational structure. Expansion of PAC could be possible," Kejriwal said.
The AAP chief also said efforts will be made to bring back Ilmi to the party fold. "I had called her today, but she (Ilmi) did not answer my phone," he said. Ilmi is currently in the US. Sources said, later in the day Lalita Ramdas, a party sympathiser, had talked to Ilmi.
Yadav on being asked about the letter written by Sisodia, said, "Every person has a style to put forth their point. Issues are important. We have differences, but we are not upset (with each other).:
"There is no doubt that we have differences of opinion, but not clashes," he said, adding that there was no relation between his resignation and his differences with Naveen Jaihind. Yadav had serious issues with Jaihind, the Haryana state convener of the party.
During the national executive meeting, the party's prospects in states like Maharashtra and Haryana, where assembly polls are slated later this year, were also discussed.
"A decision is to be taken on whether we have to contest from all seats. A decision will be taken about this tomorrow (on Sunday)," said Sanjay Ware, an AAP leader from Maharashtra.
The fledgling party had made a stunning debut in the Delhi aAssembly polls in December by winning 28 out of 70 seats and even formed a government. But Kejriwal quit as the chief minister after 49 days on the issue of the Janlokpal Bill.
The party fought the Lok Sabha elections in over 420 seats but could win only four in Punjab while drawing a blank in the capital following which Kejriwal and his close associates have come under attack.