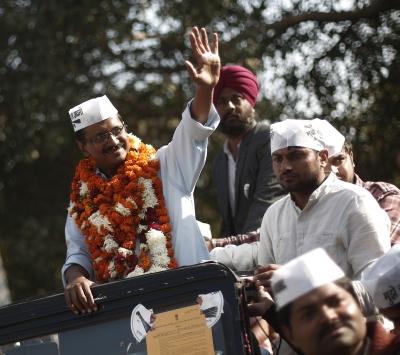 Activist-turned-politician Arvind Kejriwal will take oath as Delhi's seventh chief minister on Saturday at historic Ramlila Maidan in New Delhi, capping his party's stunning electoral debut in the December 4 assembly polls.
The date for the swearing-in ceremony was finalised at a meeting Kejriwal held with Chief Secretary D M Spolia.
Top officials in the Delhi government said Kejriwal and six Aam Aadmi Party members of Legislative Assembly will be sworn-in in a public ceremony at 12 pm at the Ramlila Maidan, the venue of Anna Hazare's anti-corruption movement two years ago.
The cabinet ministers to take oath along with Kejriwal are Manish Sisodia, Rakhi Birla, Somnath Bharti, Saurabh Bhardwaj, Girish Soni and Satendra Jain.
Born in Haryana and a resident of Kausambi in nearby Ghaziabad district of Uttar Pradesh, the IIT-Kharagpur graduate in mechanical engineering, had defeated three-time chief minister Shiela Dikshit in the New Delhi constituency by a huge margin of over 25,000 votes.
Forty-five-year-old Kejriwal had met Lt Governor Najeeb Jung on Monday and handed over him a letter staking claim to form the government with outside support from the Congress.
Following this, Jung had sent a proposal to President Pranab Mukherjee detailing AAP's stake to form the government. The President approved the proposal on Tuesday and left it to the Lt Governor to finalise the date for swearing-in ceremony in consultation with the Chief Minister-designate.
One-year-old AAP had made an electrifying debut in elections winning 28 seats in the 70-member assembly and decimating the Congress, which bagged only eight seats. The Bharatiya Janata Party, along with its ally Shiromani Akali Dal's one seat, had 32 MLAs but the party declined to form the government, citing lack of majority.
Sources in the AAP said Anna Hazare, Kiran Bedi, Santosh Hegde and all those associated with the anti-corruption movement will be invited to the swearing-in ceremony.
Kejriwal had announced formation of AAP on October 2, the birth anniversary of Mahatma Gandhi, last year and it was formally launched on November 26 coinciding with the anniversary of India's adoption of its Constitution in 1949. The party's name reflects the phrase 'aam aadmi', or common man, whose interests Kejriwal pledged to represent.
The party produced a separate manifesto for each of the 70 constituencies for the Delhi polls. The candidates were screened for potential criminal backgrounds and the party claimed to have selected honest candidates.
From 26-year-old Birla to 41-year-old Sisodia, the Cabinet is not just going to be the youngest ever but also probably the first in which all members, including the chief minister, are debutant MLAs.
Birla had emerged as a giant killer after thumping four-time MLA and Public Works Department Minister Raj Kumar Chauhan in the Sheila
Dikshit government in Mangolpuri by around 10,500 votes. Before joining AAP, Birla had worked with a private news channel.
Sisodia, a trusted aide of Kejriwal, came to prominence during Anna Hazare's movement for Janlokpal Bill in 2011. The 41-year-old journalist turned-activist-turned-politician defeated BJP's Nakul Bhardwaj by over 11,000 votes from Patparganj constituency in East Delhi.
Another face in Kejriwal's team is Saurabh Bhardwaj, an engineering graduate who had also studied law. The 34-year-old defeated Ajay Kumar Malhotra, son of veteran BJP leader V K Malhotra, by a margin of around 13,000 votes from Greater Kailash constituency.
Kejriwal has another IITian in his cabinet in Somnath Bharti who is an MLA from Malviya Nagar. He holds a Master's degree from IIT, Delhi, and a degree in law. The 39-year-old defeated BJP's Arti Mehra and another Delhi government minister Kiran Walia.
MLA from Shakur Basti (North) Jain, who will also be inducted as a minister, is an architect by profession. Girish Soni, an MLA from Madipur, had participated in Bijli-Pani agitation of the AAP and motivated people to join the movement.
Image: Arvind Kejriwal, leader of Aam Aadmi Party, waves towards his party supporters during a rally ahead of the state elections in New Delhi

Photograph: Adnan Abidi/Reuters