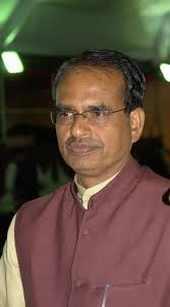 Although Bharatiya Janata Party president Rajnath Singh has accommodated 22 members from Madhya Pradesh in the recently constituted national executive, state partymen are disappointed, as Chief Minister Shivraj Singh Chouhan does not find a place in the all powerful parliamentary board.
"The partymen were expecting Chouhan to figure in the parliamentary board, but his non-inclusion has disappointed them," party sources told PTI.
The leaders were hoping that in order to balance the growing clamour for Gujarat Chief Minister Narendra Modi as the prime ministerial candidate, the BJP's national leadership would also include Chouhan in the parliamentary board, but their hopes were dashed when the list was officially declared.
However, Urban Administration and Development Minister Babulal Gaur justified the decision on the ground that "Modi had scored a hat-trick in Gujarat assembly elections, while under Chouhan's leadership, the BJP won the polls only once."
When the BJP won elections in 2003, it was Uma Bharati who had led the campaign to oust the Congress from power in the state and became the chief minister. Later, she was replaced by Babulal Gaur who later had to quit to give way for Chouhan in the wake of Bharati's protest.
Among the prominent faces from Madhya Pradesh who figure in the BJP national executive are Leader of Opposition in Lok Sabha and Vidisha MP Sushma Swaraj, former chief ministers Bharati, Sunderlal Patwa, Kailash Joshi and Gaur, and former state unit president Prabhat Jha. Other important leaders like former Union ministers Satyanarayan Jatia, Faggan Singh Kulaste and Thawarchand Gehlot are also in the list.
In the parliamentary board, Madhya Pradesh has two prominent members at present -- Sushma Swaraj and Thawarchand Gehlot.
In the vice-president slot, the party has included Uma Bharati and Prabhat Jha while Thawarchand Gehlot retained his position as general secretary.
Besides, Sudha Mallaiya, wife of state Water Resources Minister Jayant Mallaiya, was appointed as secretary and Kulaste as president of the BJP's SC/ST Cell.
Soudan Singh, also from Kurwai in Vidisha district, has become joint general secretary (organisation).
Another prominent inclusion in the national executive is industries minister Kailash Vijaywargiya, who replaced former Union minister and seven-time MP from Indore Sumitra Mahajan.