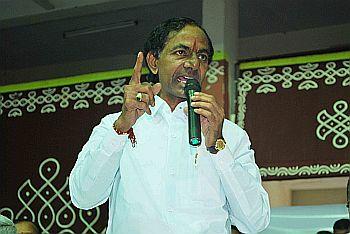 Telangana Rashtra Samithi chief K Chandrasekara Rao has termed the Congress-led UPA government's announcement on Telangana as a victory of the people.
When contacted, KCR, as he is known, says that they are still cautious and will not expect too much at the moment.
"It is just an announcement; the real celebrations will begin once the bill is passed in the Parliament," he said.
"We are waiting for that and unless that happens will not be in any position to comment any further."

He said that the long standing demands of the people of Telangana had finally paid off and he is very happy for them.
KCR, however, assured the people of Seema Andhra that they had nothing to worry about once the state is bifurcated.
"We are brothers and will remain together always," he assured them in the backdrop of safety concerns.
On the talk that his party would merge with the Congress, KCR said that nothing has been decided as yet.
"It is too early to say anything on this front. Let us see how things shape up and then we shall decide," he said.