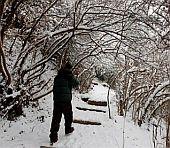 Heavy snowfall in Jammu and Kashmir has blocked the historical Mughal Road, an arterial road connecting several districts with the rest of the state, leaving tourists stranded.
The road is a lifeline for the border villages of the Kashmir Valley. It is of great importance as it connects Bafliaz, a town in the Poonch district, to Shopian in Pulwama district in the Kashmir Valley.
It also passes through the 'Pir Panjal' Mountain range, which is at an altitude of 3505 meters.
Tourists were left stranded in Rajouri district for hours, with traffic being diverted to lesser-crowded areas.
Habib, a tourist form Uttar Pradesh, said that the government must make arrangements for swift removal of the snow.
"When we came here, we came to know that the road ahead is closed due to snow. We want that the government here must put up a system to remove the snow immediately and more and more people should be employed to clear the snow. This will also facilitate the tourists who are on their way to Srinagar," he said.
Although the authorities launched the snow clearance operations and sophisticated machines were pressed into service, the situation has not really improved.
The roadblock has also hit the business of hotels and restaurants and made it difficult for the people to earn their livelihood.
This year's brutal cold wave and incessant snowfall had also severely disrupted power and water supplies.
The Mughal Road construction project was conceived in the year 1969 and further execution of the project took place in 1977.