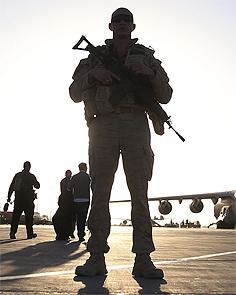 Describing India's concerns as legitimate, a top United States official has said that there is no immediate danger of foreign fighters from Afghanistan moving towards the Indian border after 2014, when American troops leave the country.
"I don't think that there's any near-term danger of foreign fighters shifting from Afghanistan to the border with India. Among other things because, unfortunately, the war in Afghanistan isn't over," Special US Representative for Afghanistan and Pakistan James Dobbins said on Wednesday.
"But the Indian concerns are legitimate and it's something that we do need to be careful about," he said in response to a question at a Congressional hearing on Afghanistan convened by the House Foreign Affairs Committee.
Describing the efforts of Pakistan Prime Minister Nawaz Sharif to improve ties with India as "sincere", Dobbins acknowledged the concerns of New Delhi, given its past experience with Islamabad.
"In Pakistan, traditionally, the security sphere has been left largely to the military, and they have been largely free of civilian oversight or control. The last time Nawaz Sharif tried to exercise that kind of control, he was overthrown by General (Pervez) Musharraf. So he has to be careful about how quickly he moves to assert civilian control of the military and a stronger civilian role in designing and implementing Pakistan's national security policy," he said.
"I think he (Sharif) has expressed himself, very clearly, that Pakistan can't be secure unless Afghanistan is at peace and relations with India are improved. And he has tried to move in both directions. I think the Indian government takes him at face value and believes he is sincere. They are a little skeptical that he will prevail in exercising enough influence over the Pakistani military," Dobbins said.
"But we give him a fair chance of being able to do so. Among other things, because the Pakistani military now realises that their biggest threat is internal, and they realise that they need the political leadership to take responsibility for the kind of sometimes harsh measures that will be needed to deal with that internal threat," he said.
Dobbins, who met Foreign Secretary Sujatha Singh this week, said the US has been working closely with India on issues concerning Afghanistan.
"I met with the Indian foreign secretary on this, for instance. President (Hamid) Karzai is visiting India later this week for a State visit," he said.
"India has a significant aid programme and significant investments, probably the greatest contribution India could make and Pakistan can make in Afghanistan is improving their bilateral relationship," he added.
"Improved relationships between India and Pakistan will have two effects on Afghanistan. One effect is it will greatly increase the access of Afghan trade to India via Pakistan. But secondly and equally important, it will reduce the competition between the two countries for influence in Afghanistan in a way that has often proved highly destabilising," he argued.
"So we have been encouraging both Pakistan and India to overcome their differences in Kashmir, their differences over Afghanistan," Dobbins added.
Image: A soldier stands guard on the tarmac at Kandahar Air Base, Afghanistan ' Photograph: Mark Wilson/Reuters