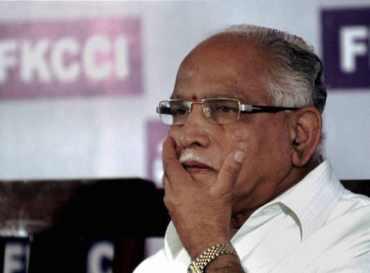 B S Yeddyurappa may have had his revenge by proving that his warnings about destroying the Bharatiya Janata Party were not mere threats, but the bigger question is about his future political career. The BJP too has a lot of thinking to do ahead of the 2014 elections as Karnataka is the only state from where the BJP can win some parliamentary seats. Vicky Nanjappa reports.
Both the Bharatiya Janata Party and B S Yeddyurappa have realised that they are useless without each other. While Yeddyurappa realises that he has become a pawn at the hands of the Congress, as many believe that he played this anti-BJP game at their behest.
The BJP on the other hand realises that it has lost a massive vote bank after Yeddyurappa's exit.
The last time under Yeddyurappa the BJP had won 59 seats in the Lingayat-dominated areas, and this time the party managed only 15.
Take the example of the Mumbai-Karnataka region which had 30 candidates from the Lingayat community -- all of whom were part of the BJP. All these candidates lost their seats and it was clear that the Lingayats were not in favour of outgoing Chief Minister Jagadish Shettar's candidature, or do not consider him to be their leader.
These were the same seats in which Yeddyurappa managed to sweep under his leadership on the Lingayat card.
Looking at the results, it does not appear that anyone has really voted on caste lines this time. The vote share of the Congress has been impressive and the party has managed to get votes from all castes.
The Lingayats, Vokkaligas and also the minorities have voted for the Congress. Hence it is said that this is a clear vote against the BJP.
Both the BJP and Yeddyurappa would wait and watch before they patch things up. Had the BJP won over 60 seats, the BJP could have said that the Yeddyurappa factor made no difference.
However, that is not the case and both these parties will be looking to forget their differences as soon as possible.