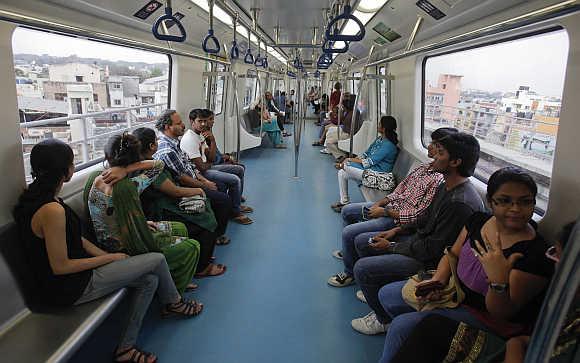 Voters in the three main urban centres in Karnataka -- Bengaluru, Mysore and Mangalore -- have resoundingly rejected the ruling Bharatiya Janata Party.
The Congress has won in 13 of the 28 constituencies in Bengaluru, with major candidates like Roshan Baig, N Harris, R V Devraj, Priya Krishna and Dinesh Gundu Rao all winning in their constituencies.
The BJP won only 11 seats in Bengaluru. In the last state election, it had won 20 seats.
The Congress managed to win six out of the eight seats in the Mysore belt.
But its best performance was in the coastal city of Mangalore, where the party scored a clear hat-trick by winning in all three constituencies in the region.
The BJP was taken aback by the electoral setback in both Bengaluru and Mangalore as these cities had traditionally been the party's strongholds.
In a last-ditch attempt to retain power, the party had roped in Narendra Modi to campaign in both cities. But the Gujarat chief minister's speech could hardly soothe the anger among urban voters against the wobbly state government.
The large voter turnout in Bengaluru indicates that even urban dwellers, who are considered to be apathetic towards elections, wanted to make their point this time. They had had enough of the corrupt and confused BJP government and were determined to oust it.
Political analysts rightly point out that this was a negative vote against the BJP rather than a positive vote for the Congress.
The political situation in Mangalore was slightly different as Yeddyurappa's departure had divided the BJP's grass-roots workers.
The locals were also upset over incidents like the attacks on churches, pubs and home stays, allegedly by right-wing elements backed by the BJP.
Ironically, the voting pattern in Mangalore changed significantly this time, as the Hindu votes remained united. In spite of the Congress's decision to field only candidates from the minority community, so strong was the anger against the ruling BJP that Hindu voters chose to vote for these candidates, paving the way for the ruling party's ouster.
Image: Commuters travel in the Bangalore Metro