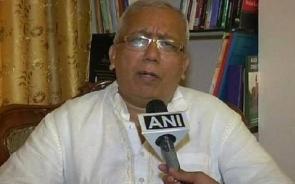 Former Samajwadi Party leader Kamal Farooqui met Delhi Chief Minister Arvind Kejriwal on Sunday sparking off speculation that he may join the latter's Aam Aadmi Party.
"Right now, everybody is interested to join Kejriwal," Farooqui said after the meeting. When asked whether he was contemplating such a move, Farooqui said that he "would let you know (reporters) tomorrow" (on Monday).
The prominent Muslim leader was sacked by the Samajwadi Party as its secretary in September following his controversial comment that Yasin Bhatkal, the alleged co-founder of Indian Mujahideen, was arrested because he was a Muslim.
"We met Kejriwal and congratulated him for becoming Delhi's chief minister," Farooqui said, adding that he "discussed about the manifesto" during his meeting with the AAP founder.
Confirming the development, AAP leader Sanjay Singh said that discussions about "Farooqui joining the party is on". "For Lok Sabha elections, we will need good leaders working with other political parties.
"As Kejriwal has already invited such good persons, we again appeal them to join us and help us throw corrupt people from Indian politics," Singh told reporters.
The AAP leader also criticised the Akhilesh Yadav-led Uttar Pradesh government for "demolishing few relief camps" meant for the riot victims of Muzaffarnagar and Shamli.
"The UP government should compensate victims and do something for them," Singh said.
According to sources, the AAP is planning to contest from all seats in Uttar Pradesh in the upcoming Lok Sabha polls.
Image: Kamal Farooqui