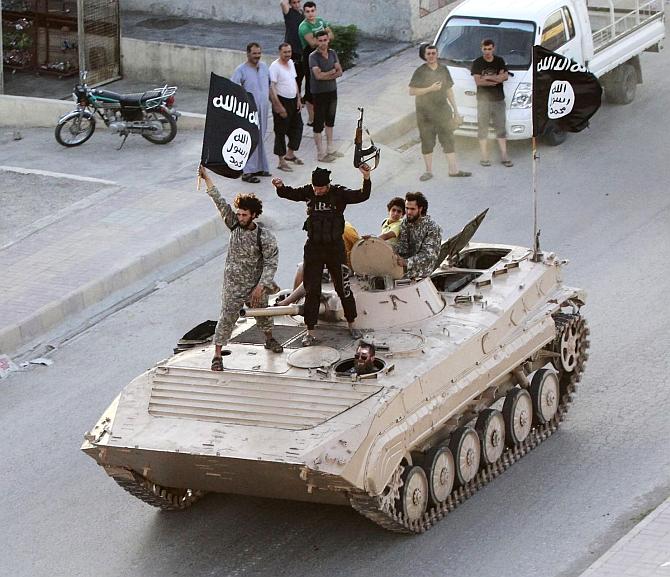 The four young men from Kalyan who joined the jihad in Iraq are likely to provide technical support to the Internet-savvy ISIS. Vicky Nanjappa/Rediff.com reports.
The rise of the Islamic State of Iraq and Syria is a crisis closer home than it appears.
Eighteen radicalised men from Kerala, Maharashtra and Tamil Nadu are learnt to have joined the brutal ISIS.
Four young men from Kalyan, a town near Mumbai, who were reported missing by their parents, entered Iraq a month ago. They are based in Fajullah, a city located 69 km from the Iraqi capital Baghdad, according to inputs shared between Indian and Iraqi intelligence.
Sources in Indian intelligence say there is no clarity on the role of the young men from Kalyan -- Arif Majeed, Fahad Sheikh, Aman Tandel and Shaheen Tanki -- (three of them are pictured below) in the ISIS.

"They could be providing technical assistance suspects Iraqi intelligence. The ISIS wants its presence felt on the Web and is keen to be active on social media. These boys are technically qualified to undertake such a job," an investigator told Rediff.com
While Arif, 22, Fahad, 24, and Aman, 27, were engineering students, Shaheen, 25, was employed at a call centre.
The Intelligence Bureau has alerted the Kalyan police to look out for a local businessman, who they suspect helped the Kalyan quartet leave the country.
"We are trying to ascertain the role played by this businessman. The four suspects had saved money to fly to Iraq, but it wasn't sufficient. This businessman, who helps Saudi-based Wahabbis transfer funds to India, could have provided them with the monetary assistance they needed," police sources told Rediff.com
The parents of the four men deny that their sons have joined the ISIS. Says Naeem Tandel, Aman's father, "My son has no leanings towards extremism and could not have joined the ISIS."
Letters left behind by Majeed and Fahad hint that they left India to pursue jihad, the police said. Investigations reveal that these young men were self-indoctrinated and left for Iraq on their own free will.
In their letters, Majeed and Fahad wrote that they wanted to be in 'the land of Allah' and not this 'sinful country'.

Image: ISIS terrorists in Iraq's northern Raqqa province. Photograph: Reuters