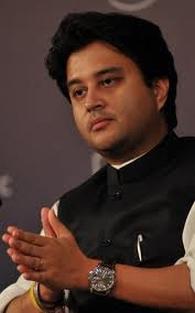 Union Minister of State for Power, Jyotiraditya Scindia has taken the onus of Congress' defeat in the recent Madhya Pradesh assembly polls.
"I have taken upon myself the responsibility for the party's defeat and I stand by it," Scindia, who was the chairman of the state Congress poll campaign committee, told reporters at the Guna airstrip on Thursday.
A detailed analysis must be done of the reasons that led to the party's defeat, he said.
Replying to a question on various statements being made against the Congress leaders by Bharatiya Janata Party's prime ministerial nominee Narendra Modi, he said there was no need to pay any attention to them.
The Congress had won in five out of eight assembly segments in his parliamentary constituency Guna, Scindia said, adding that the credit for it should go to its people.
The Congress got a drubbing in the state by winning only 58 seats in the 230-member assembly.