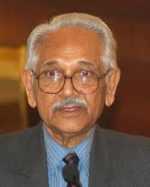 The government will soon send the recommendations of the Justice Verma Committee, which has prescribed comprehensive changes in criminal laws, to a Parliamentary panel for consideration.
Sources said many of the suggestions on crime against women given by the three-member panel, headed by Justice J S Verma, had already been incorporated in Criminal Law Amendment Bill, 2012, which was introduced in Parliament during the winter session.
The home ministry is studying the report and whatever fresh recommendations are found, would be flagged and forwarded to the Parliamentary Standing Committee on home affairs for consideration.
The Standing Committee, headed by Bharatiya Janata Party leader M Venkaiah Naidu, last week had requested the home ministry to send
Verma panel's report to it as it would like to see the recommendations and see whether the fresh suggestions could be incorporated in the Criminal Law Amendment Bill, 2012, which it is currently examining.
Sources, however, said no time frame has been fixed by the home ministry to introduce the proposed amendments in Parliament as suggested by Justice Verma.
Justice Verma had said that his panel completed the report within one month and now the government has one month before it to consider the suggestions before introducing a Bill in Parliament during the Budget session, which is expected to start within a month.
The Verma Committee favoured comprehensive amendments to criminal laws seeking minimum 20 years imprisonment for gang rape and life term for rape and murder but refrained from prescribing death penalty.
New offences have been created and stiffer punishment has been suggested for those committing rape and leaving the victim in a vegetative state. They include disrobing a woman, voyeurism, stalking and trafficking.
Sexual misconduct also includes intentional touching, spoken words and gestures made as advances.
The panel was constituted in the wake of the nationwide outrage over the December 16 gang rape of a girl in Delhi.