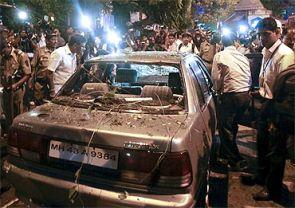 The National Investigation Agency is on the verge of cracking the July 13, 2011 Mumbai serial blasts case.
The revelations made by blast mastermind and Indian Mujahideen founder Yasin Bhatkal have helped the agency understand that the case has two angles to it -- the first being the blend between Indian and Pakistani operatives and secondly the Maharashtra Anti-Terrorist Squad being wrong from day one of the probe.
Bhatkal identified the image on the close circuit television footage as that of an operative named Waqas who was roped in from Pakistan for the operation.
Bhatkal claimed that it was Waqas who had planted the bomb at Zaveri Bazar.
'Trained in Pakistan, Waqas was an expert in preparing and planting bombs. He was the perfect choice for this operation, and everybody was pleased with the manner in which he carried out the operation,' Bhatkal told investigators.

According to Bhatkal, Waqas continues to remain in India on the instruction of his handlers in Pakistan.
'The last I knew about Waqas was that he was in Uttar Pradesh and after that I have no idea about him. He is handled directly by handlers in Pakistan and meets us only if he is given specific instructions.'

Bhatkal's account is nothing but embarrassing for the Maharashtra ATS who started out with the 13/7 investigations.
While they managed to get Bhatkal's role right, the rest of the persons they picked up or claimed to pick up were all in no way connected with the blast.
Take for example the case of Naquee Ahmed, Nadeem Shaikh and Haroon Naik, all of whom were informers.
In fact, the NIA has found that Naquee's case is quite embarrassing as he was part of the Delhi Police operation trying to bust the IM module which carried out the 13/7 blasts. The Maharashtra ATS, however, decided to arrest Naquee and show him as one of the accused despite several directives and requests from their Delhi counterparts and the Intelligence Bureau telling them who he really was.

Consequently, two major slip-ups happened. Firstly, Bhatkal who was hiding at Byculla locality of Mumbai then managed to get away. Secondly, information regarding the whereabouts of Waqas too which were known to Naquee never came out.
Today, Bhatkal has told the NIA that Waqas stayed with him at Byculla for nearly a month and half before the 13/7 attack. He visited a local gymnasium where he met with the other operatives and planned out this attack. Not once did he come under the radar of the local police.
Bhatkal further adds that he had planted the bomb at Dadar. Tabrez and Waqas planted the bombs at Opera House and Zaveri Bazar respectively. They were shadowed by another operative named Tahseen who ensured that the logistics were provided.
'Following the attack, all of us dispersed and did not discuss anything between each other,' Yasin pointed out.
'In case, Waqas was needed for another operation, he would have been handled by persons in Pakistan and we ensured that we did not communicate through email or phone and this helped us escape,' he said.

The NIA is now trying to get out the names of four other persons who were part of the operation