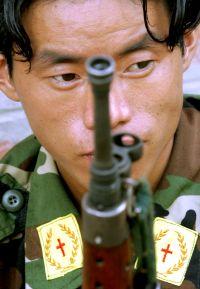 Assam police have arrested a local TV channel reporter for allegedly having links with the banned National Democratic Front of Bodoland (Sangbijit faction) group. Jaikhnong Brahma, a Kokrajhar-based reporter for Guwahati-based satellite TV channel, News Live was arrested on Tuesday evening from his residence.
Following his arrests, other journalists from the area carried out a protest, demanding his unconditional and immediate release. The Electronic Media Forum of Assam has also demanded his immediate release. The EMFA stated that reporting on activities of militant outfits and militancy can't be grounds for arrest of a journalist.
Meanwhile, a communiqué issued from the headquarter of Assam police informed that
"Jaikhnong Brahma, 44, news correspondence of News Live, a satellite channel, was arrested by the police from Kokrajhar town last night. Police recovered some objectionable evidences against him."
The communiqué further said, "It may be mentioned that this person voluntarily does the work of promoting and knowingly facilitating the violent acts of this banned organisation, the NDFB, which compromises national security and integrity. He is found to be providing information to the extremists about the movement of security forces in advance and instigating the cadres of outfit to indulge in the violent activities like killing of innocent persons/sources or informers of the security forces/burning the vehicles on national highways to create the fear psychosis among the masses and causing breach of public tranquility as well as to glorify the act of extremist of banned organisation."
Image is used for representational purposes only.