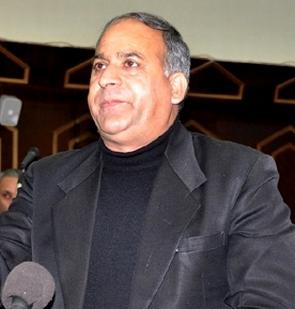 In more trouble for former Health Minister Shabir Khan, the Jammu and Kashmir assembly speaker on Monday gave his nod to police for the members of arrest on molestation charges, saying they should act according to law.
"The police had come with a warrant on Sunday (for arrest of Khan). I told them (police) you go according to law," Speaker Mubarak Gul told reporters on the opening day of the budget session of the assembly.
Asked whether police has sought his permission to arrest the sacked minister, he said, "It is not necessary that I will give permission but it is necessary to seek permission of the assembly speaker about the arrest of any member of this House.
"When the police came to my office with warrant, I told them you go according to law", he said. Asked if the former minister has gone into hiding, he said, "It is not a question for the speaker to reply. You can go and ask government".
The Dy SP and SHO of the area (under whose operational area the alleged crime took place), had come to me on Sunday with the warrant, he said, adding that they "delivered a copy of the warrant in my office and sought written permission".
It is mandatory for police to inform the speaker with regard to the arrest of any member, he said. Khan had resigned on February 7, a day after he was booked by police on a complaint by a lady doctor, alleging that he made an attempt to molest her in his office.
The MLA from Rajouri and minister of state for health had submitted his resignation to Chief Minister Omar Abdullah who forwarded it to Governor N N Vohra. Khan has moved the high court seeking bail in the sexual assault case even as he continued to evade arrest.
Counsels for Khan submitted the bail application before the Srinagar wing of high court. Justice J R Kotwal, who heard the application, directed the state to file a response by Tuesday and listed the case for hearing on Wednesday.
On February 8, a court in Srinagar had issued an arrest warrant against Khan in connection with the case.