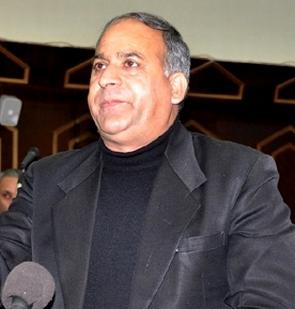 Jammu and Kashmir Governor N N Vohra has accepted the resignation of Health Minister Shabir Ahmad Khan, who stepped down after he was accused of molestation by a local doctor.
"The letter of resignation of Shabir Ahmad Khan, minister of state, recommended and forwarded by Chief Minister Omar Abdullah, has been accepted with immediate effect by N N Vohra, governor of Jammu and Kashmir," an official spokesman said.
The minister submitted his resignation to the chief minister on Friday afternoon and the CM forwarded it to the state governor.
Police have already registered a case again the minister on the direction of a local court.
The doctor has alleged that the minister called her to his office and tried to molest her.
After police refused to file an FIR against the minister, the doctor approached a local court, which issued a direction to the police to file the case against the minister.
The FIR has been lodged under Sections 354 and 509 of the Ranbir Penal Code or RPC. If proven guilty, the Congress minister could be imprisoned for a period of two years.
The opposition Peoples Democratic Party has demanded immediate arrest of the minister.
Addressing a press conference in Jammu, PDP President Mehbooba Mufti said, "There is an apprehension that being an influential person, he could try to pressurise and influence the witnesses and destroy evidence, which requires that he should have been taken into custody immediately on registration of an FIR".
Mehbooba added, "The government must come clean on the reports that police had refused to register an FIR lodged by the victim of this sexual assault and that she had been forced to approach the court for seeking an order for registration of an FIR".
"As per the newspaper reports, the incident has happened seven days back but police refused to register an FIR," the PDP president said.
The doctors association of Kashmir has called for a one-day strike in hospitals across the Valley on Saturday.
The association has demanded stringent punishment for the minister.