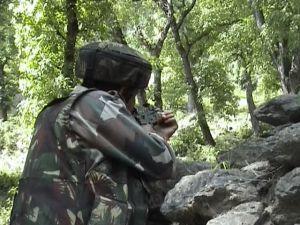 Five suspected foreign terrorists were killed in an encounter with Army in Kangan area of central Kashmir's Ganderbal district on Monday.

"Five terrorists have been killed in a counter-insurgency operation in Wangat forest area of Kangan," defence spokesman Lt Colonel J S Brar told PTI.

"We are trying to ascertain the identity and group affiliation of the slain terrorists," he said.

Police sources said the slain terrorists were believed to be a group of foreigners, who might have infiltrated into the Valley recently.

Meanwhile, in another terrorism-related incident, a joint party of Army and police was fired upon in Poshwari area of Shopian district in south Kashmir but there were no casualties reported.

The joint search party was fired upon at around 9.30 am from an orchard but the security forces did not retaliate due to the presence of civilians, who were packing apples, the sources said.

A search operation has been launched in the area to track down the assailants, they added.