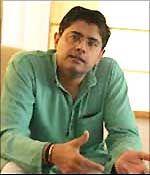 Baijayant 'Jay' Panda, the Biju Janata Dal's Lok Sabha MP, left, has submitted a private member's bill in the Lok Sabha to reduce the controversial Section 66A of the Information Technology (Amendment) Act, 2008 to merely an anti-spam provision.
Section 66 of the Act has come in for wide criticism for misuse after a number of arrests have taken place for tweets and Facebook updates.
The private member's bill may take months to be listed, but notably was submitted on a day when the Supreme Court entertained a public interest litigation to repeal Sec 66A.
The private member's bill asks for the first two of three clauses to be completely repealed, and the third modified.
It says that clause (a) of Section 66A uses expressions such as 'grossly offensive' and 'menacing' which are not only impossible to define but also highly subjective.
Clause (b) prescribes penalties for offences such as 'annoyance', 'criminal intimidation', 'insult' and promoting 'hatred' or 'ill-will' between groups.
Panda's bill says, 'Prescribing the same punishment for "annoyance", as well as 'criminal intimidation, by bundling of disparate terms within the same clause is bound to lead to confusion and misuse. Moreover, most of these offences are already covered under various sections of the Indian Penal Code, 1860 (IPC). As a result, offenders often get booked under both the statues for the same offence.'
Clause (c) of Section 66A reads, 'Any electronic mail or electronic mail message for the purpose of causing annoyance or inconvenience or to deceive or to mislead the addressee or recipient about the origin of such messages.'
Panda wants this re-worded more clearly so that it is used for nothing other than spam.
His bill also says that India should instead have a comprehensive anti-spam legislation as they do in countries like the United Kingdom and Singapore.
Section 66A(c) was also inserted through an amendment moved by then telecom minister A Raja on December 16, 2008, which was passed by the Lok Sabha on December 22, 2008, and a day after by the Rajya Sabha, with almost no debate.