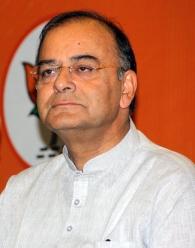 Raising strong objections to the "highly improper" procedure adopted by the Union government in making key appointments to the posts of Lokpal, Bharatiya Janata Party leader Arun Jaitley has charged the department of personnel with diluting the role of the Selection and Search Committees.
Jaitley, who has raised the issue with Prime Minister Manmohan Singh by writing to him twice earlier, has alleged that the procedure adopted by department of personnel and training is violative of the Lokpal Act.
He said the best people should be appointed to the anti-corruption body and the procedure should be strictly undertaken on the basis of the Lokpal Act.
Jaitley said the purpose of the DOPT is only to provide administrative and logistic support to the Selection Committee and Search Committee, and alleged that their role is being "diluted".
The Leader of Opposition in Rajya Sabha had initially written to the prime minister, raising objections to the advertisements issued by DOPT in seeking applications for key appointments in the Lokpal and the procedure adopted by it.
His counterpart in Lok Sabha, Sushma Swaraj, who is a member of the Selection Committee of Lokpal, had raised strong objections to the selection of senior lawyer P P Rao as a co-opted member of the panel and registered her dissent.
Swaraj had also met President Pranab Mukherjee, pleading for his intervention to bring about unanimity in the appointment of the panel member.
The Leader of Opposition was outvoted with three votes going in favour of the government nominee -- in the meeting at Prime Minister Manmohan Singh's residence -- to select the fifth member of the panel.
Swaraj had claimed that Rao was a "Congress loyalist" and instead proposed the name of former attorney general K Parasaran, in a bid to bring about unanimity among the panel members.