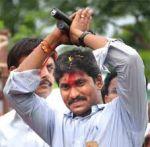 The Central Bureau of Investigation, probing alleged quid pro quo deals case involving YSR Congress chief Y S Jaganmohan Reddy, on requested a local court to take cognisance of the fresh charge sheet filed in the case and sought issuance of summons against the accused.
The central agency filed a memo before a special CBI court a day after it filed its fifth charge sheet in the Jagan assets case against 13 individuals and firms and naming of Andhra Pradesh Home Minister Sabita Indra Reddy as one of the accused.
Apart from requesting the court to take cognisance of the fresh charge sheet, the CBI also sought for issuance of summons against all the accused for their appearance before the court.
The CBI had on Monday informed the court that permission under the Prevention of Corruption Act was not required with regard to Sabita, who is named as the fourth accused as she ceased to be the mines and geology minister.
After this, the judge had yesterday directed the CBI to file a memo for issuing summons to the accused. The court is yet to take a decision on the memo.
Sabita is the third minister from the state to figure in five charge sheets filed by CBI in connection with properties allegedly amassed by Jagan which were disproportionate to his known sources of income.
The others made accused include Jagan, his aide Vijay Sai Reddy, Managing Director of Dalmia Cements Punit Dalmia, suspended IAS officer Y Sri Lakshmi and the then Director Mines in Andhra Pradesh V D Rajgopal.
The 62-page document pertains to alleged investments made by Dalmia Cements and two other cement firms--Eeswar cements and Raghuram Cements in businesses promoted by Jagan, who is currently in jail.
CBI alleged that Dalmia Cements was allotted limestone mines in Andhra Pradesh during Y S Rajasekhara Reddy rule at throw-away prices. Sabita Indra Reddy had held the portfolio of mines minister during the YSR rule.
The CBI had charged Sabita Reddy with misuse of office as a public servant in granting limestone mining lease in an extent of over 400 hectares to Dalmia Cements in Kadapa district in 2008.