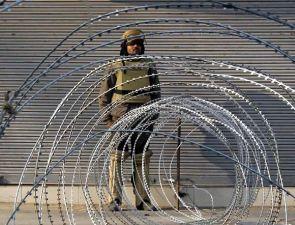 A 23-year old youth was allegedly killed in security force firing during post Friday prayer clashes in north Kashmir Bandipore district. Farhat Ahmad Dar received bullet injury during the clashes and was evacuated to hospital for treatment where he succumbed.
A senior police officer said clashes erupted in the Naidkhai village of Bandipore soon after the Friday prayers ended as scores of youth indulged in heavy stone pelting on the police and the Central Reserve Police Force.
The security forces, he said used repeated baton charges to disperse the protesters who, however, continued to re-group. "The youth tried to torch a police vehicle and indulged in heavy stone pelting," the officer said.
As the news about Dar's killing reached Naidkhai, hundreds of villagers took to streets staging protests which were continuing until late on Friday evening. A senior state government officer said a time bound inquiry has been ordered into the firing incident resulting in the death of the youth.