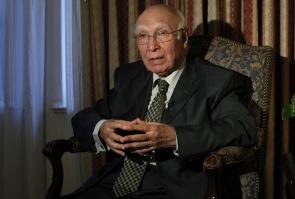 The opposition Peoples Democratic Party Monday described the meeting between the foreign policy adviser to Pakistani Prime Minister Sartaj Aziz and the separatist All Parties Hurriyat Conference leaders as a 'welcome revival of the process initiated by the National Democratic Alliance government' and said that 'it should be carried forward in all its dimensions'.
Addressing a workers convention, PDP president Mehbooba Mufti said, "The criticism of the talks in New Delhi is misplaced as this process was started many years back and Hurriyat leaders have been meeting the top leadership of both the governments of India and Pakistan."
"Hurriyat leaders have travelled to Pakistan many times and held discussions with that country's presidents and Prime Ministers and it is unfortunate that some parties like BJP and the National Conference have smelled a rat in it and are opposing such contacts which could be very fruitful for the resolution process," the PDP president said as per a party statement.
Welcoming the talks between the Hurriyat leaders from the state and Aziz, Mehbooba said, 'Involvement of the opinion leaders from Jammu and Kashmir in the dialogue process between our country and Pakistan is inevitable if a lasting and just resolution of the problem is to be achieved."
She said all the stakeholders and schools of thought from Jammu and Kashmir "have to be taken on board in the resolution process and the APHC represent an important point of view".
Mehbooba said the release of the hardline separatist leader Syed Ali Shah Geelani is "no favour to him but only the restoration of his right to expression and movement which had been curbed for the last five years".
Image:Advisor to the Pakistani Prime Minister on Foreign Affairs and National Security Sartaj Aziz
Photographer: Joshua Lott/Reuters