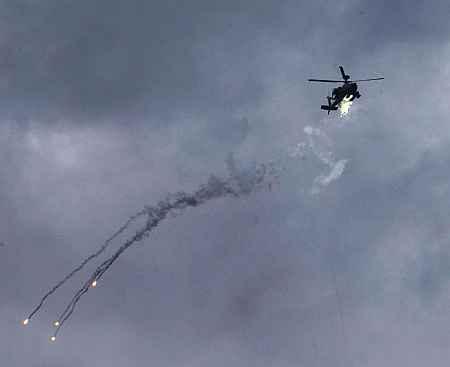 Stepping up its offensive, Israeli military killed 26 Palestinians, including eight members of a family, in overnight raids on the Hamas-ruled Gaza Strip, taking the death toll to more than 300 in the 12-day long conflict that has displaced thousands.
Three Israeli soldiers were injured in northern Gaza in exchange of fire and evacuated to a nearby hospital for treatment, the Israeli Defence Forces said on Saturday.
An IDF spokesperson said, "over 40 terrorists have been killed in the Israeli operation and 21 others arrested".
An Israeli soldier has been killed and five others injured since the launch of its first massive ground offensive in the Gaza Strip in five years this week.
Israeli forces backed by artillery and air strikes launched the ground offensive on Thursday with the army saying the objective is to strike a "significant blow to Hamas".
Israel withdrew ground troops from Gaza in September 2005, and last mounted a major ground operation in 2009.
More than 300 Palestinians, mostly civilians, have been killed and over 2,200 injured in the Israeli attacks.
Over 40,000 have been displaced in Gaza since the start of Israeli operation, United Nations sources said.
The displaced have taken refuge in 34 UN shelters "where relief workers are facing a tough challenge providing them basic necessities under difficult conditions," a Gaza-based UN source told PTI.
The number of people in Gaza seeking sanctuary from the conflict with Israel nearly doubled yesterday, the UN said.
UN Secretary-General Ban Ki-moon will leave for the Middle East on Saturday to help end the conflict between Israel and Palestinians.
"The Secretary-General is extremely concerned that this escalation will further increase the already appalling death toll among Gazan civilians," Under-Secretary-General for Political Affairs Jeffrey Feltman said.
Feltman said Ban is currently reviewing a request by Palestinian President Mahmoud Abbas which would place Palestine under an international protection system administered by the UN.
Meanwhile, eight members of the Abu Jrad family, including four children, were killed when a missile struck their home in Beit Hanoun, Gaza health ministry sources said.
Four members of the Sha'ath family were killed and four were injured, one seriously, after an air strike on their home in the Hayy al-Manara neighbourhood of Khan Younis, they said.
Three members of the Abu Sneineh family were killed in a strike on their home in eastern Rafah in the southern Gaza Strip and three others were injured.
Palestinian Health Ministry's spokesman Ashraf al-Qidra said that a Palestinian earlier injured in the Israeli offensive also died overnight.
Al-Qidra released names of all those killed overnight in the Israeli operation.
Israeli Prime Minister Benjamin Netanyahu has warned of a "significant expansion" of the offensive to protect Israeli citizens from indiscriminate rocket attacks.
Hamas, the Palestinian Islamist group that controls Gaza since ousting rival Fatah faction in a bloody conflict in June 2007, said Israel would "pay a high price" for the invasion.
Israeli jets have struck over 2,000 targets in Gaza.
In response, Palestinian militants fired more than 1,500 rockets since the fighting began, targeting all of Israel.
UN agencies working in Gaza have said that at least 1,370 homes have been destroyed in Gaza. They say that most of those killed in Gaza have been civilians.
United States President Barack Obama called Netanyahu to discuss the situation in Gaza and expressed hope that Israel will minimise civilian casualties in its ground offensive against Hamas.
Image: An Israeli helicopter releases flares as it flies over the Gaza Strip on Saturday
Photograph: Baz Ratner/Reuters