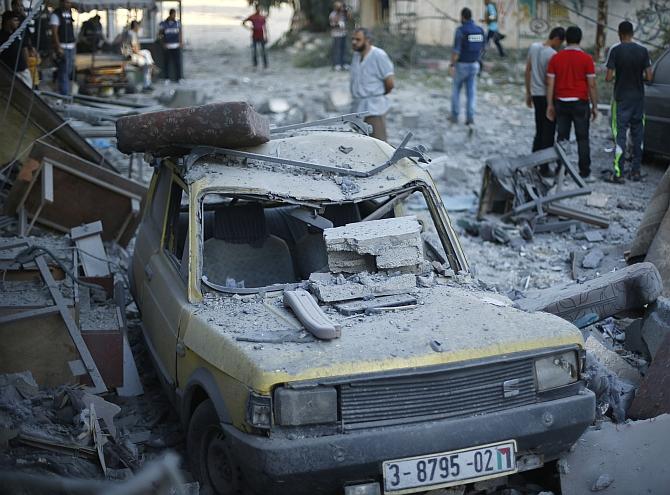 Israel on Wednesday stepped up its offensive in Gaza, asking 100,000 Palestinians to flee their homes and threatening ground operations, as the death toll in the airstrikes climbed to 208 with tensions escalating following failed Egyptian cease-fire efforts.
Thousands of people have fled their homes amid the bombardments, taking refuge in United Nations buildings, some of which have been damaged by the Israeli bombardments.
The Israeli Defence Forces said that it warned residents of three areas in Gaza to vacate their homes because of its plans to carry out airstrikes on Hamas and other terrorist groups. The IDF said it used recorded messages, text messages and leaflets to alert the populations in Beit Lahyia, Shuja'iya and Zeitoun, places where it said "a high volume of rocket fire at Israel has originated."
Israel's security cabinet has approved plans to destroy Hamas's network of tunnels in Gaza, army radio said. The cabinet also discussed the possibility of a limited ground incursion which would not initially involve entering towns, it said.
"Israel has no option but to continue the operation and intensify it," former national security adviser Giora Eiland told army radio.
"The main dilemma is over a ground operation...It looks like we're rolling in that direction, since air strikes have their limitations," he said.
Hamas' rockets continued to fizz over the border, and Israeli airstrikes kept slamming into buildings in Gaza as the death toll climbed higher.
The number of Palestinians killed in Gaza in nine days of of Operation Protective Edge reached 208 -- most of them civilians, according to the United Nations -- with at least 1,550 wounded, Palestinian health authorities said.
The Israeli military accuses Hamas is taking the people of Gaza hostage by using places like houses, hospitals and schools to hide weapons.
An Egypt mediated truce initiative on Tuesday failed to halt rocket attacks on Israel by Hamas militants and other groups who called it "capitulation and surrender", choosing to continue with rocket and mortar fire.
Israel accepted the Egyptian proposal for a truce, pausing airstrikes for about six hours. But Hamas rejected the plan and kept on launching rockets into Israeli territory.
"Hamas have decided to continue, and will pay the price for that decision," Israeli Prime Minister Benjamin Netanyahu said on Tuesday.
Israel, which suffered its first fatality in a mortar attack at the Ere crossing, said senior Hamas militants had died in strikes on Gaza overnight.
Among those reported killed was a five-month-old baby, Palestinian medics said charging Israel of having killed mostly innocent civilians.
Israel has accused Hamas and other Gaza-based militant factions of using civilians as human shields as activists of the groups went around telling people not to evacuate homes.
Militants have fired more than 1,200 rockets at Israel, which on Tuesday caused the first Israeli death.
The warning by Israel for Palestinians to flee their homes came as militants continued to fire rockets at Israeli cities, the IDF said, adding that its Iron Dome missile shield had intercepted four rockets launched at Tel Aviv.
Following continued rocket attacks, Israeli Prime Minister Benjamin Netanyahu said that he now had no choice but to "expand and intensify the campaign against Hamas" and that "When there is no ceasefire, our answer is fire".
"This would have been better resolved diplomatically... but Hamas leaves us no choice but to expand and intensify the campaign against it," he said.

Image: A car, which police said was damaged in an Israeli air strike that targeted the house of top Hamas political leader Mahmoud Zahar, is seen in Gaza City. Photograph: Mohammed Salem/Reuters