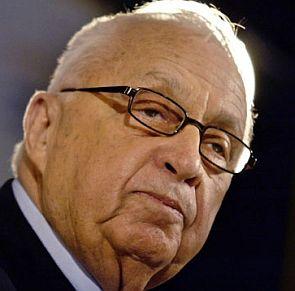 Former Israeli Prime Minister Ariel Sharon, who has been in a coma since 2006, is in a critical condition after "serious deterioration" in his health with vital organs failing over the past few days, his doctor said on Thursday.
"In the last few days, we have seen a gradual decline in the functioning of Ariel Sharon's vital organs, which are essential for his survival," Professor Ze'ev Rotstein, the head of ShebaMedicalCenter at Tel Hashomer said.
"His state is classed as critical, meaning his life is in danger. The sense of the doctors and the family today is that there has been a change for the worse," Rotstein said.

The life of the 85-year-old former premier has been hanging in the balance over the past two days due to what Rotstein said was "a serious deterioration in his health."
Sharon, who was reported to have been suffering from serious kidney failure, was not on dialysis, but that doctors were administering antibiotics due to numerous infections, Rotstein told reporters.
Sharon's two sons, Omri and Gilad, remained close to their father late Wednesday awaiting further developments and treatment.
"We have hope, we always have hope," Omri Sharon told The Jerusalem Post from the hospital.
Sharon's family members have continued their vigil by his bedside since after doctors told them that his vital organs are failing and "it is a matter of days or even hours before he succumbs", Ynetnews reported.
The 11th Prime Minister of Israel has been in a coma since January 4, 2006, when he suffered a massive stroke at his Sycamore Ranch in the Negev while still serving as the premier.
Sharon has seen sporadic positive responses to scans that measure brain activity, but has remained in a deep vegetative state since his initial hospitalisation.
Sharon has been undergoing dialysis treatments for kidney failure in order to prevent the failure of the rest of his organs. The former prime minister underwent surgery a month and a half ago to treat an infection caused by kidney failure.
"In patients such as Sharon, there is always a chronic infection that spreads to the kidneys, and that is what has led him to the critical condition he is in," Professor Mordechai Ravid, director of Mayanei Hayeshua Medical Centre in Bnei Brak said.
Having fought in three Middle Eastern wars, Sharon is revered by many Israelis as the "security man" and reviled by numerous in the Middle East as the "butcher of Sabra and Shatila".

While serving as defence minister in 1982, he masterminded Israel's invasion of Lebanon. During the invasion, Lebanese Christian militiamen allied to Israel massacred hundreds of Palestinians in two Beirut refugee camps under Israeli control.
He was nevertheless elected prime minister 18 years later, pledging to achieve "security and true peace", and served until his second stroke.