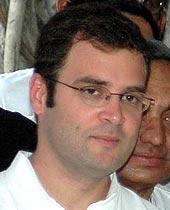 It is a well publicised fact that Congress leader Rahul Gandhi has been travelling across India, urging students and the youth to join politics. He has also been active in organising elections in the Youth Congress and the National Students' Union of India.
The Gandhi scion's activities are in sharp contrast to the workings of the Congress party, where party chief Sonia Gandhi's managers still seek a consensus mantra on most issues and the nomination culture permeates from the block level till the powerful All India Congress Committee.
But democracy does take a backseat even in the Youth Congress, as is happening in    Chhattisgarh.
The Youth Congress is yet to hold elections in the state. Amit Jogi, son of former state chief minister Ajit Jogi, has been spearheading the membership drive. He has managed to recruit nearly four lakh members, surpassing Rahul Gandhi's expectations.
Emboldened by the success of the drive, Jogi has decided to contest for the post of the Youth Congress president. But the Congress top brass in Delhi is not too happy about the prospect.
AICC Secretary Jitender Singh, a close aide of Gandhi, reportedly made innumerable calls to Amit Jogi, asking him not to contest. But Jogi has refused to listen to the party's senior leaders.
According to sources, the Congress has in the past witnessed the ascendancy of a number of undesirable leaders who have managed to bag the Youth Congress president's post on the basis of money and muscle power. They point out that even a close aide of Rashtriya Janata Dal leader Pappu Yadav had graced the position of the state unit chief in Bihar.
Thanks to the system put in place by Rahul Gandhi, it is very difficult for an aam admi to contest the Youth Congress elections, as most of the leaders who have won these elections have spent a great deal of money on ensuring their victory, say sources. Most of them are the sons of senior state leaders and have used their father's or family's connections to make it to the post.
Observers say that since Gandhi wants to encourage democratic elections within the Congress' ranks, and not rely on the nomination culture, his office should not try to manipulate the system to suit them. Gandhi should encourage the electoral process and let it decide future leaders, they say.
On September 1, Gandhi is scheduled to visit his constituency Amethi, followed by a visit to Bihar on September 4 to kick-start the state's election campaign.
He will then head to Kolkata on September 6 to set in motion the Youth Congress membership drive there. Gandhi will also hold his first rally in Bengal, where assembly elections are scheduled to be held next year.