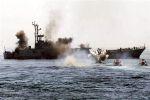 Ahead of the P5 plus One talks in Almaty, US Secretary of State John Kerry said that Iran has an opportunity to address the concerns of the international community with regard to its nuclear weapons program.
"Iran knows exactly what it needs to do in order to address international concerns about its nuclear program, and it can start doing so next weekend in Almaty at the P-5+1 talks," Kerry told reporters.
P5 plus one, the five permanent members of the UN Security Council - United States, France, China, Britain and Germany will meet on April 5-6 in Almaty.
"Iran knows very well it has an opportunity this weekend. The Iranian people are a great people. They have a long, long history, many times longer than the United States of America, thousands of years," he said.
"They have an ability to rejoin the community of nations, to get out from under this isolation, if they will choose the simple ways of proving, as other nations proved, that they have peaceful nuclear energy. It's that simple. It's not complicated," he said while responding a question.
"Our hope is that that initiative can begin in earnest this weekend in Almaty, where we will have a team prepared to negotiate, and that in the days ahead we can reach an understanding that will also move as we are trying, with respect to the KoreaPeninsula, to make the world safer. That's what this is about," he said.
Kerry also acknowledged South Korea's continued commitment to reducing Iranian oil imports. "This has not been easy. It's at a cost to their economy. It's difficult. But they have played their role and taken their part in helping to have an impact on trying to change the behavior of Iran," he said.