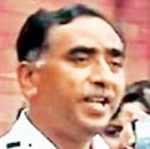 Six IPS officers have been shortlisted for the post of the CBI director once incumbent A P Singh retires in November. Sheela Bhatt reports


The search for the new director of the Central Bureau of Investigation is likely to end soon. S C Sinha, a 1975 batch Haryana cadre officer, who is currently the director general of the National Investigation Agency, is expected to be appointed to the post.
The first meeting of the selection committee, which will be chaired by Chief Vigilance Commissioner Pradeep Kumar, will be held on Tuesday. 
A P Singh, the current CBI director who is retiring next month, is expected to attend the meeting as a special invitee. Home Secretary R K Singh and Pulok Chatterjee, principal secretary to Prime Minister Manmohan Singh, are members of the selection committee, which will also appoint the director of the investigating agency.
S C Sinha is shortlisted for the post along with Delhi Police commissioner Neeraj Kumar, Indo-Tibet Border police chief Ranjit Sinha, CBI special director Vineet Kumar Gupta, former director general of police of Uttar Pradesh Atul Gupta and Prakash Mishra, a 1977 batch Indian Police Service officer of the Odisha cadre.
The post of the CBI director has a fixed term of two years irrespective of the officer's date of retirement.
Many political lobbies are trying to influence, covertly, the process of selection. One of the shortlisted aspirants is reportedly backed by Rajiv Shukla, minister of state for parliamentary affairs while another one is backed by Haryana Chief Minister Bhupinder Singh Hooda.
S C Sinha's two competitors have faced serious charges in past. 

Ranjit Sinha, the senior-most among other shortlisted officials is a 1974 batch IPS officer of the Bihar cadre. He was known for his proximity to Rashtriya Janata Dal chief Lalu Prasad Yadav. In fact, the Patna high court had once passed strictures against him and he was removed from the investigation of the fodder scam.

Neeraj Kumar has faced the charge of "torture in custody" during the investigation of the 1993 serial blasts in Mumbai. Kumar has served in the CBI from 1993 to 2002 and has handled a number of cases including organised crimes involving underworld don Dawood Ibrahim, terror-related cases and economic offences.

Atul Gupta, a 1976 batch officer of the Uttar Pradesh cadre was the DGP when Akhilesh Yadav came to power. He was dumped to an inconsequential department by Yadav. 
Vineet Kumar Gupta, a 1977 batch IPS officer of the Gujarat cadre, is perceived to be anti-Modi in the state. He is retiring this year.

Prakash Mishra, a 1977 batch IPS officer of the Odisha cadre and the DGP of Orissa, is a batch mate of V K Gupta.

Image: NIA chief S C Sinha