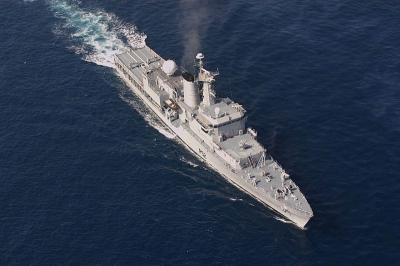 INS Sunayna, the second of the Naval Offshore Patrol Vessel class of ship, was commissioned in Kochi on Tuesday by Vice Admiral Satish Soni, Flag Officer Commanding in Chief of the Southern Naval Command.
The vessel, to be based in Kochi under Southern Naval Command, has been built at the Goa Shipyard Limited and will meet the increasing ocean surveillance and patrolling requirements of the Indian Navy.
The warship is designed to undertake fleet support operations, coastal and offshore patrolling, ocean surveillance and monitoring of Sea Lines of Communications and offshore assets and escort duties.
Speaking on the occasion, Vice Admiral Soni said the shipbuilding process continues to be one of the most challenging tasks starting from design to integration of diverse equipment, prior final setting to work and delivery of a seaworthy combat platform.
Two diesel engines propel INS Sunayna and enable it to achieve speeds in excess of 25 knots. The ship also has an automatic power management system and is fitted with the latest Navigation, Communication and Electronic Support Systems.
INS Sunayna can also carry a helicopter.
Commander Aftab Ahmed Khan, the Commanding Officer of the ship, leads a crew of 8 officers and 108 sailors.
While speaking to reporters, the vice admiral said the ship was ready to fight piracy. "We see deployment of Sunayana in the Gulf of Eden in the near future," he said.