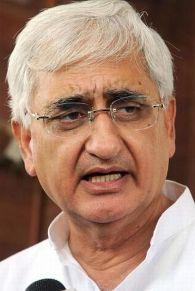 Referring to China's reported discomfiture over the close Indo-Japan ties, External Affairs Minister Salman Khurshid Wednesday said just as Beijing's ties with Islamabad did not affect our relations with it, similarly warmth between India and Japan was no cause of concern.
"China is known to have maintained a close relation with Pakistan. We have never asked it to stop doing so nor have we given up working towards improving ties with Beijing.
"Similarly, our friendly relations with a country that China may not be comfortable with can not be seen as a problem," Khurshid told reporters in Allahabad.
At a time when Prime Minister Manmohan Singh is in Japan, an influential Chinese daily said New Delhi's wisdom lay in dealing with its disputes with Beijing calmly, undisturbed by "internal and international provocateurs".
Chinese communist party's mouthpiece, the People's Daily, lashed out at Japanese politicians, terming them as "petty burglars" on China-related issues.
Khurshid also sought to allay apprehensions stemming from reports that China was constructing roads close to the border along Ladakh and said, "both countries have been involved in building of infrastructure along the international boundary.
"A dispute exists between the two countries on a number of points. Though we have not been able to resolve the dispute, the dialogue process has never stopped and it will continue in the most cordial fashion".
He also said that India was adopting a "Look East" policy as part of which efforts were being made to strengthen relations with Bangladesh, Myanmar, Laos and Vietnam.
"We are working towards resolving the border dispute with Bangladesh which often comes in the way of secure the porous boundary through fencing.
"In Bangladesh, all political parties have shown unanimity over the issue. We hope that political one upmanship does not prevent us from arriving at a consensus," Khurshid added.
To another query, the external affairs minister said India is holding discussions with "Heart of Asia" countries to decide on the role that was to be played in Afghanistan after the US pulls out of the war-ravaged country in 2014.
"Right now we are already involved in a lot of infrastructure development work there. We are building roads, dams, schools and hospitals," he said.
Meanwhile, Khurshid ruled out possibility of early Lok Sabha polls and said the UPA government had "a mandate for full five years" and was looking forward to getting some key legislation passed in its final and "most crucial" year.
"In a parliamentary system of democracy, sometimes elections are held before the scheduled time. We, however, believe that the UPA had received a mandate for full five years. And the last year is most crucial in a tenure," Khurshid told reporters.\
"We are looking forward to getting two very important bills passed in the Parliament. These are the Food Security Bill and the Land Acquisition Bill," he said and expressed dissatisfaction over "non cooperation" from the Opposition "which did not allow the House to function smoothly for one single day".
"The Food Security Bill, in particular, will have a great impact on the lives of the poor. As such, the Opposition is never able to find fault with the proposed legislation and even pretends to be supportive of it. However, it's proclaimed support is nowhere to be seen in the Parliament.
"Nevertheless, we hope to get these bills through in the Monsoon session", Khurshid added.
Apparently distancing himself from cabinet colleague Beni Prasad Verma's allegation that the recent attack on a Congress cavalcade in Chhattisgarh was result of a "conspiracy", Khurshid said "many people have said what they have felt.
"If there is one thing about which there is unanimity among all cabinet members, it is the dire need to curb the insurgency".
When asked about reports that Maoists were being given weapons and other logistical support by Nepal and China, the External Affairs Minister said "that is a matter of investigation".
On the possibility of party vice-President Rahul Gandhi becoming the Prime Minister in the event of the Congress forming the government for the third consecutive term, Khurshid said "these are high-level decisions which will be taken at the level of Gandhi himself, party president Sonia Gandhi and Prime Minister Manmohan Singh.
"The party will fully back whatever course of action they decide".