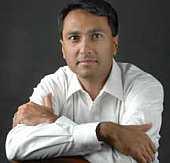 Mumbai-born and Chicago-raised Eboo Patel, a charismatic Muslim scholar who fights fanaticism and religious intolerance, has been named in the fifth annual Best Leaders issue of the US News & World Report magazine

The list of 22 leaders was compiled in association with Harvard Kennedy School. It also includes Federal Reserve Board Chirman Ben Bernanke, Newark city Mayor Cory Booker, Cisco Systems CEO and Chairman John Chambers and playwright-activist Eve Ensler.
A 33-year-old Rhodes scholar and author, Patel is also one of US President Barack Obama's advisers on faith. He has been running an organisation called Interfaith Council and camps for youth from different religions for over a decade.
In the magazine report, Patel recollected how during the 7th-grade student council election, a white classmate had told him, 'Nobody would vote for people like you'. Locker-room humiliation and peer taunts of 'curry maker' -- worse marked his adolescence, he told the magazine.

In his memoir, Acts of Faith, Patel says he could have easily become a religious extremist but for his careful reading of The Koran, and the inspiration he took from leaders ranging from Mahatma Gandhi to Martin Luther King Jr to Nelson Mandela.
'Patel is tackling what he considers the 'colour line' of the 21st century: The faith line,' the magazine said, adding, 'While Patel's soft-spoken charm may hide his Rhodes scholar intellect, there is nothing understated about his strikingly ambitious vision for global religious pluralism.'