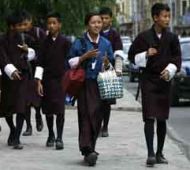 Prime Minister Narendra Modi made Bhutan the destination of his first foreign visit. Now two weeks later, the foreign minister of the Himalayan kingdom, Rinzin Dorje, is in Beijing discussing the China-Bhutan border issue.
The move poses a serious challenge to New Delhi because any negotiation on China-Bhutan border dispute is bound to affect India's border negotiations with China. Bhutan and China share 470 kilometres of border, which is also close to India's 'chicken's neck' -- the narrow Siliguri corridor which links the northeast.
Yang told Dorje that China is willing to work with Bhutan to reach a fair, reasonable solution that is acceptable to both sides at an early date so as to push forward bilateral exchanges and cooperation in various fields. China wants a 'comprehensive solution' to its border problem with Bhutan, he said.
China and Bhutan do not have formal diplomatic relations, and there is no diplomatic mission from China in Thimpu.
Dorje attended the 22nd round of talks on the China-Bhutan boundary issue along with Chinese vice foreign minister Liu Zhenmin last Friday. He also met Chinese foreign minister Wang Yi on Monday. Chinese leaders told him they want to take forward bilateral exchanges and cooperation in various fields.
On his part, Dorje said Bhutan attaches great importance to relations with China and is committed to solving the boundary issue at an early date, according to China's official news agency, Xinhua.
China and Bhutan have not yet established formal diplomatic ties and do not have embassies in each other's countries. Chinese foreign minister Wang said China believed in good neighborly relationship with Bhutan even though there are no formal diplomatic ties.
China is planning to lay an extension line stretching the Tibet railway from Lhasa to the borders of India, Nepal and Bhutan by 2020. This is apparently an attractive offer for Bhutan, which would like to attract Chinese tourists.
The last border talks took place on August 22 last year.
Dorje is leading a seven-member Bhutanese delegation, which includes Foreign Secretary Yeshey Dorji, Ambassador of Bhutan to India Major General Vetsop Namgyel and senior officials from the ministry of foreign affairs and international boundaries.
As part of border solving efforts, the two countries have conducted the joint technical field survey of Bayul Pasamlung area in September 2013. They participated in an expert group meeting held in Beijing in March.
The boundary negotiations between the two governments are guided by the Four Guiding Principles of 1988 and the 1998 Agreement on the Maintenance of Peace and Tranquility in the Bhutan-China border areas. The negotiations are going on since 1980s.