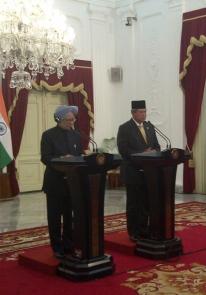 India on Friday pressed Indonesia to speedily ratification an extradition treaty, with Prime Minister Manmohan Singh saying the two countries would frame a comprehensive action plan for mutually beneficial security cooperation.
"I requested early ratification by Indonesia of the Extradition Treaty and Mutual Legal Assistance Treaty," Singh said after talks in Jakarta with President Susilo Bambang Yudhoyono.
As part of efforts to intensify political exchanges and to implement bilateral initiatives, Singh said the two leaders had directed officials to "evolve a comprehensive action plan for meaningful and mutually beneficial security cooperation".
The two sides resolved to boost cooperation in combating terrorism, terrorist financing, arms smuggling, organised crime, money laundering, drug and human trafficking, counterfeiting and cyber crime.
The leaders agreed to enhance liaison between intelligence and law enforcement agencies of both countries and to provide each other with assistance to fight terror and organized crime, a joint statement said. They also directed relevant agencies to launch a dialogue on cyber security issues.
Memorandums of Understanding on cooperation in disaster management and combating narcotics trafficking signed on Friday would give "more substance to our growing security cooperation", Singh said.
Singh, who arrived in Jakarta on Thursday after attending the ASEAN summit in Brunei, described Indonesia as "one of India's most valued partners in our Look East Policy". Yudhoyono and Singh identified five specific sectors to deepen the bilateral Strategic Partnership - political, security, economic, people-to-people and international issues.
Image: Prime Minister Manmohan Singh with Indonesian President Susilo Bambang Yudhoyono in Jakarta