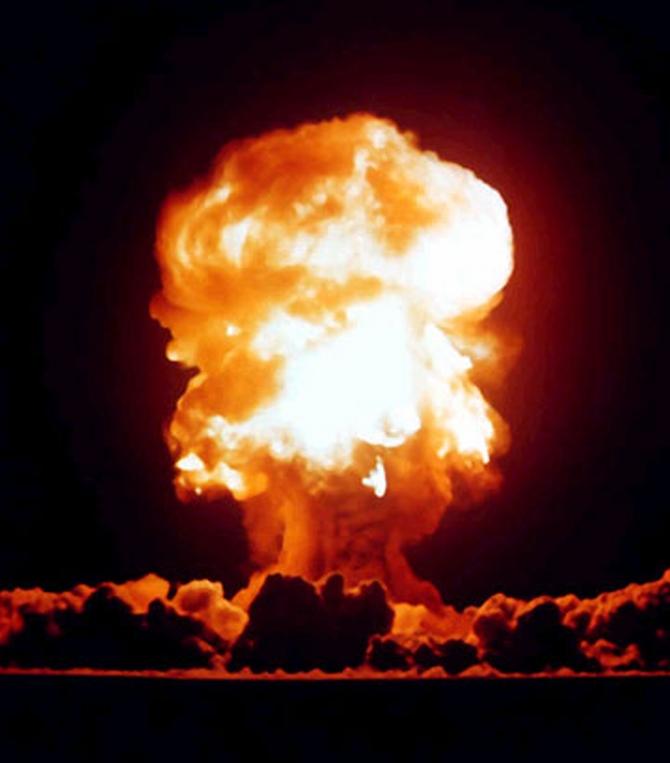 Reacting strongly to reports of North Korea conducting a nuclear test, India on Wednesday said it was a matter of "deep concern" and stressed its worry over proliferation links between North East Asia and its neighbourhood, an apparent reference to Pakistan.
India also called upon DPRK to refrain from such actions which adversely impact peace and stability in the region.
"We have seen reports that DPRK has conducted a nuclear test today. We are assessing the available information, including claims that this was a thermonuclear test.
"It is a matter of deep concern that DPRK has again acted in violation of its international commitments in this regard. We call upon DPRK to refrain from such actions which adversely impact on peace and stability in the region. Our concerns about proliferation links between North East Asia and our neighbourhood are well-known," External Affairs Ministry Spokesperson Vikas Swarup said.
According to reports, North Korea obtained "many of the designs for gas centrifuges and much of the machinery" required to make highly enriched uranium for nuclear weapons from Pakistan, which in return got ballistic-missile parts from North Korea.
Earlier on Wednesday, North Korea said it had carried out a "successful" hydrogen bomb test, a claim that -- if true -- massively raises the stakes over its banned nuclear programme.
"The republic's first hydrogen bomb test has been successfully performed at 10.00 am (0330 GMT)," North Korean state television announced.
The surprise test was personally ordered by North Korean leader Kim Jong-Un and came just two days before his birthday.
If confirmed, the test would mark another big step toward Pyongyang's goal of building a warhead that can be mounted on a missile capable of reaching the US mainland.
Meanwhile, the test drew strong criticism from North Korea's neighbours and the West which warned of a robust response to its "grave provocations".
The US said it was too early to verify North Korea's claim but vowed to "respond appropriately" to "any and all provocations."
"We will continue to protect and defend our allies in the region, including the Republic of Korea, and will respond appropriately to any and all North Korean provocations," State Department Spokesman John Kirby said in a statement.
Japanese Prime Minister Shinzo Abe said, "The nuclear test that was carried out by North Korea is a serious threat to the safety of our nation and we absolutely cannot tolerate this."
"This clearly violates UN Security Council resolutions and is a grave challenge against international efforts for non-proliferation," he said, adding his country would seek to coordinate efforts among UN members to deal with the action.
South Korean President Park Geun-Hye called the test a "grave provocation" to its national security and a "threat to our future".
She said North Korea's action is a strong challenge to international peace and stability.
"Tough measures are needed, including the strict sanctions of the UN Security Council and allied and friendly nations," she was quoted as saying by Yonhap news agency.
China, North Korea's key ally, "firmly opposed" the test which was conducted "irrespective of the international community's opposition".
"We strongly urge the DPRK side to remain committed to its denuclearisation commitment, and stop taking any actions that would make the situation worse," foreign ministry spokeswoman Hua Chunying told a regular briefing, using the North's official name.
"On the sanctions, China will honour its international obligations and work with the international community to realise the goal of denuclearisation of the peninsula and make our due contributions"
China would summon the North's ambassador and launch"solemn representations" over the nuclear test.
British Foreign Secretary Philip Hammond said that both Britain and China opposed North Korea's test of a miniaturised hydrogen nuclear device and support the resumption of so-called six-party disarmament talks.
Hammond, who is currently visiting China, said he and his Chinese counterpart Yang Jiechi agreed to work with other members of the UN Security Council toward "a robust international response."
"If a nuclear device has been detonated by North Korea, this is a grave breach of UN Security Council resolutions and a provocation which I condemn without reservation," he said.
France condemned the reported test, calling for a "strong reaction from the international community".
Australian Foreign Minister Julie Bishop said the test "confirms North Korea's status as a rogue state and a continuing threat to international peace and security."
The UN Security Council plans to hold an emergency meeting in New York, diplomats said.
A hydrogen, or thermonuclear device, uses fusion in a chain reaction that results in a far more powerful explosion.
For years, the world has been trying to bring North Korea to the table to talk disarmament, but with little success. The six-party talks are comprised of United States, North Korea, South Korea, China, Japan and Russia.
North Korea declared it had nuclear weapons in 2003, and conducted nuclear tests in 2006, 2009 and 2013.
In May last year, it said it had the ability to miniaturise nuclear weapons, a development that would allow it to deploy nuclear weapons on missiles.
Image for representation only.